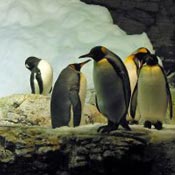 Four years after a consortium of environmental NGOs set the "Gold Standard" bar for emission reduction projects, Switzerland-based South Pole Carbon Asset Management has cleared the hurdle. The Ecosystem Marketplace discovers how South Pole's founders got where they are, and where they hope to be a year from now.
"A lot of people getting into carbon offsetting these days think you can sell an offset just by saying you're going to do something in the future," laments environmental scientist Renat Heuberger."We think the market is actually going to demand more than that. People want real offsets."
That's the premise on which Heuberger and four friends set up Zurich-based South Pole Carbon Asset Management in July 2006.
The independent offset shop aims to become a leading provider of the highest quality Certified Emission Reduction certificates (CERs) the Kyoto Protocol's Clean Development Mechanism (CDM) has to offer, and last week it took a historic leap towards achieving that goal when it officially learned it had wet-nursed the first-ever offset certificates that meet the 'Gold Standard' (GS).
The GS was established in 2003 by WWF and other NGOs. Projects that meet the standard have to prove not only that they achieve the emission reductions advertised, but also that they contribute to sustainable development in the region where they are built. "Some people were beginning to say the GS procedure was too complex, too unrealistic," says Heuberger. "This proves otherwise."
The Price of Gold
Each CER represents one metric ton of certified carbon emission reduction, and last week Norwegian certification agency Det Norske Veritas (DNV) put its stamp of approval on 65,000 South Pole CERs from a biomass residue cogeneration plant in Karnataka, India. Such projects capture methane gas from waste, and this one should keep delivering emission reduction credits for another sixteen years. Under the stringent GS guidelines, the Gold Standard consortium technically has another week to request a review of the project, but sources in the consortium say that's unlikely.
CERs tend to be priced at a discount to the price of European Union Allowances (EUAs) trading in the European Union Emissions Trading Scheme (EU ETS).South Pole has already sold 20,000 of the 65,000 CERs it harvested from this project, and is holding out for top dollar on the other 45,000. "Our mission now is to set the standard for pricing," Heuberger says. "Normal CERs are priced at about 60% of the price of emissions trading under EU ETS. We believe GS CERs should be priced at least at 100% of EU ETS certificates being delivered between 2008 and 2012."
Those certificates are currently trading in a range between €14 ($18.50) and €18 ($24) per metric ton, and Heuberger offers two incentives for companies to pay more for GS CERs than for standard CERs:
"First, a lot of critics say regular CERs delivered under CDM don't do enough to promote sustainable development, and in the future we might have stricter requirements, so buying Gold Standard offers a hedge," he says. "Second, Gold Standard certificates should have a tendency to be more stable from a risk perspective, because local stakeholders have been more involved."
South Pole has three other projects in the stakeholder-review phase of Gold Standard certification, and more than 15 others in development. Still, there's a fear that concentrating on quality could price them out of the market unless they drum up public awareness as well. Hence, the catchy name"South Pole" – designed to emphasize that the company exists to give benefits to the southern hemisphere, and to remind people that the geographical South Pole is endangered.
"Plus," says Heuberger, "We get to put a penguin on our logo."
Building South Pole
Heuberger and two of the other founders, civil engineer Patrick Bürgi and environmental scientist Thomas Camerata, cut their teeth at myclimate, a non-profit carbon offset service provider they founded together with Heuberger and others in Zurich in 2002. The foundation initially focused on offsetting flight emissions before gradually taking on ever larger projects. Today, myclimate is one of the leading non-profits in the offset field.
"The trouble is, the way this business is moving, you have to be really nimble," says South Pole partner number four, Christoph Sutter, another environmental scientist who's spent the past few years developing financing for renewable energy projects at McKinsey&Company and also serves on the board of myclimate.
"The structures of a large, well-organized non-profit are not conducive to sourcing CDM projects, where you have to act fast, especially if you're trying to develop business in China," he says, adding that all four will continue to work with myclimate as well.
The fifth partner, Ingo Puhl, whose degree is in industrial engineering and business management, co-founded a partnership called 500 PPM—the name signifying the atmospheric level at which greenhouse gasses need to be stabilized to keep climate change manageable. "South Pole is essentially the reconstituted 500 PPM," says Heuberger. "We started working with 500 PPM in 2003 after we realized it would be good to have a private company as a partner on the business side, while Ingo was looking for a partner in his technology section."
Heuberger quickly became enamoured with Puhl's vast database of Asian leads—not to mention his ability to act without consulting boards and trustees.
"We've been joined at the hip ever since," he says.
As a first deal, South Pole partnered with Netherlands-based Climate Focus to win an open bid put out by the Swiss Climate Foundation to identify and buy carbon credits abroad, and South Pole soon thereafter won a similar contract from the Government of Austria.
These contracts represent the bulk of the partnership's €50 million ($65 million) war chest, which they hope to double in the coming year by expanding their network among potential buyers of certificates.
Putting Money to Work
Like most groups in the sector, South Pole has three primary business areas: helping developers of CDM projects get up to speed, helping buyers of CDM certificates evaluate projects in the pipeline, and all manner of consulting.
On the development front, they provide everything but the technology itself. "For that, we have technology partners," says Heuberger, whose job is often to seek out projects and then offer ways of adding value by generating certificates. "We do the whole chain of CDM development—from identifying the potential, to doing the project design document, to assisting with validation, to finding carbon finance through our network of buyers, to assisting them with contract negotiations, up to registering and delivering the certificates."
To achieve their growth target, the partners have been blitzing carbon conferences around the globe and looking for innovative ways to network. They recently signed an exclusive cooperation agreement with an unnamed global waste water treatment company to share leads—and are looking to cut similar deals with technology providers in other tangential industries.
In late 2006, they added two new hires: Marco Hirsbrunner, a sinologist, joined as country manager for China; and Christian Dannecker, yet another environmental scientist with a long track record in Colombia and Chile, as the regional manager for Latin America. They're also looking to add more hires in Southeast Asia, China, and Brazil.
On the buyer side, Sutter says they are close to signing new partnership agreements in Europe, and expect to hook up with a North American partner once the right one comes along.
They also plan to launch a carbon fund with up to €200 million ($260 million) in equity, and to put as much of their own money into it as they can afford. "Long-term," says Sutter, "we will probably do less consulting and concentrate on putting our own equity into projects."
Steve Zwick is a regular contributor to the Ecosystem Marketplace. He is based in Germany and may be contacted at steve.zwick@nullgmail.com.
First published: March 12, 2007
Please see our Reprint Guidelines for details on republishing our articles.