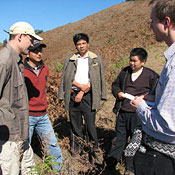 The Ecosystem Marketplace profiles a new forestry initiative in China: Forest Restoration for Climate, Community and Biodiversity (FCCB). In Chinese, the characters for mountain and water together mean nature. The Gaoligongshan Nature Reserve (GNR) in Yunnan Province, southwest China, is comprised of exactly these two elements. In fact, the reserve's thousands of hectares of jagged mountains, crystal-clear waterfalls and deep silent forests, make it one of China's most important areas for nature conservation. At the south end of the GNR, Tengchong County stretches along the Hengduan Mountain Range. Despite their proximity to the rich resources of the GNR, Tengchong County's forests have been severely degraded by decades of deforestation and intensive agricultural cultivation. And so in April 2005, Conservation International (CI) teamed up with The Nature Conservancy (TNC) and China's State Forestry Administration to launch an initiative called Forest Restoration for Climate, Community and Biodiversity (FCCB) in Tengchong County. The FCCB initiative hopes to alleviate poverty through four forestry-based carbon projects in rural China that will generate income for local farmers and communities through the sale of Certified Emissions Reductions (CERs) on the global carbon market. Adopting a learning-by-doing approach, FCCB hopes to teach Chinese farmers how to navigate the Kyoto Protocol. The Kyoto Protocol requires that industrialized countries reduce their carbon emissions to five percent below 1990 levels, either by cutting emissions domestically or via a variety of so-called "mechanisms for flexibility", the most prominent of which involves investing in carbon emissions reductions projects in developing countries. This latter option, known as the Clean Development Mechanisms (CDM), is the Protocol's primary means of involving developing countries in its attempts to reduce greenhouse gas emissions. According to Point Carbon, the CDM market saw Euro 3.9 billion worth of transactions in 2006, and the World Bank estimates two-thirds of the CDM deals signed were in China. Virtually all of these deals, however, bypassed China's forestry sector. The FCCB project, according to backers, is hoping to change this situation by demonstrating the important role forests can play in countering climate change and protecting biodiversity.
Seeding the Market
In October 2004, CI announced its desire to implement afforestation/reforestation projects in China and contacted the American company 3M to raise funds. 3M subsequently committed US$3 million to FCCB in the hopes of catalyzing four forestry carbon projects. "Protecting the environment while promoting sustainable economic development is a long-term commitment of ours as a responsible corporate citizen," says 3M managing director of Greater China Kenneth Yu. "Sustainable economic development will become a reality if corporations are playing a vital role in environmental protection, and thus more companies [will] integrate environmental awareness into their corporate culture and take solid measures," he adds. CI project coordinator He Yi says that the project has also received funds from Chinese local governments and the World Bank. In September 2006, United Technologies Company (UTC) donated US$200,000 over two years to support reforestation projects in the mountains of southwest China. At present, the Tengchong pilot is the only FCCB project being implemented in China. "Only the Tengchong pilot program has passed [approval by the] Designated Operational Entity (DOE) whereas the three other projects are still going through the administrative process," says He Yi. "We can start to plant trees in Tengchong County as soon as August 2007."
A High Standard
In addition to planting trees and educating Tengchong's farmers about the carbon market, He Yi says Conservation International hopes to set high standards for carbon offset projects in the country. In particular, the Tengchong pilot will make sure its credits meet Climate Community and Biodiversity (CCB) standards. Developed by the CCB Alliance (CCBA), an organization led by companies and NGOs, the CCB standards aim to protect biodiversity-rich ecosystems across the world by certifying carbon projects that contribute to the restoration and conservation of degraded or threatened lands. "The CCB standards are a tool for designing and evaluating multiple-benefit forestry projects," explains CCBA director Toby Janson-Smith. "The Chinese government has endorsed them as an effective means to help China develop sustainable forestry initiatives." The standards consist of 15 criteria to demonstrate benefits for fighting climate change, supporting local communities and conserving biodiversity. These include stipulations that projects should use primarily native tree species, follow strict measurement methodologies when quantifying carbon stocks, and involve local communities in project design and benefit sharing. "The Tengchong pilot program satisfies all these requirements," says Janson-Smith. "In fact, it is the very first project to be independently certified as meeting the CCB Standards, and it has earned the highest "CCB Gold" designation for its exceptional quality." Using a participatory approach and the CCB standards, the project plans to establish a zone between southwest China's Gaoligongshan Nature Reserve (GNR) and neighboring communities by restoring forests at the fringe of the reserve. The pilot involves communities in implementation and hopefully will reduce local farmers' dependence on poaching and illegal logging in the reserve. The GNR is considered to be one of world's key conservation areas, rich in biodiversity. Located in Yunnan Province at the border with Myanmar, the reserve "is the ideal location for our afforestation and landscape restoration project," says FCCB Yunnan Pilot project manager Majian of TNC. One of the key benefits of the project is that it will create standards that take the multiple benefits associated with forestry projects into account. Introducing native species will restore the natural habitat and provide future ecological services such as carbon sequestration and biodiversity conservation. "In common agreement with local farmers, we decided to introduce four tree species native to the area," adds Majian. "It will take less than 30 years for them to grow, which is exceptionally fast." As part of the project, farmers from three townships and five villages in Tengchong County will plant 750,000 trees on 467.6 hectares that include the Sujiang Forest Farm, a state-owned area in the northern part of the county. Local farmers were consulted so that the project will respond to their needs for livelihood development. Farmers will contribute land and labor in return for forest products, and the Sujiang Forest Farm will invest in planting trees, managing the sites and providing technical support. The state farm owns the carbon credits for 112.4 hectares of the area and has shareholding deals with local communities and farmers regarding the planted forest production. "The farmers own the net income from forest products. They will get up to 100% timber products from their restored lands, and 10% of carbon credit from the international carbon market," explains Majian. During project implementation, Sujiang State Farm and the private investors will cover farmers' labor costs to insure their short-term income. Overall, 2,108 villagers will benefit from the project.
The Right Partners
While the Tengchong County project suggests a promising new type of reforestation initiative may be on the horizon for China, those involved in its design admit to the challenges facing them. "It was difficult to present the CDM and CCBA concept to government officials at the national level, and then to convince provincial and local officials of the viability of the project," says Majian. "We have had to spend a tremendous amount of time and money in training before even talking about the project." The project team held 3-4-day training courses in each village throughout the county. Local farmers were trained in silvicultural practices and taught about the carbon market. "They are involved in all aspects of project implementation, from planting and fertilizing to conducting regular patrols of the forest," says Majian. According to Majian, villagers welcome the project because it supports their social and economic ties with the Sujiang Forest Farm and provides the training needed to develop profitable agroforestry systems. The project is not risk free. Potential economic and environmental risk, such as poor management of the plantations or pest and fire outbreaks, could damage project success. Accordingly, project managers plan to use "environmentally-friendly techniques" to mitigate these risks through training and assistance from the forestry sector, and the project report states that "none of these risks are considered to be significant." Majian is optimistic. He foresees CDM forestry projects mushrooming across the country in the future and believes that the Tengchong project will have multiple impacts at both local and national levels. "We need to plant more trees to tap deeply into the carbon market and get more money," says Majian. The forest, he believes, is bankable. Hayet Sellami is a Beijing-based contributor to the Ecosystem Marketplace. She may be reached at hayets@nullispwest.com. First published: March 26, 2007 Please see our Reprint Guidelines for details on republishing our articles.