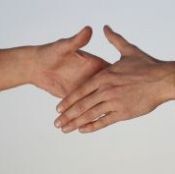 Note:   This article is a breaking story.   It will be expanded into a full feature and re-posted as a top story within the next two weeks.
3 November 2010 | The Hague | The Rockefeller Foundation announced several commitments this week totaling over $1.5 million dollars to support the development of climate-smart agriculture. The commitment was announced at the Global Conference on Food Security, Agriculture, and Climate Change at The Hague, The Netherlands.
 
The agricultural sector has a pivotal role to play in addressing, mitigating, and helping to adapt to climate change. Despite this, the opportunities for engaging this sector in climate change mitigation have been the subject of extensive debate. There are several reasons for this debate, largely stemming from the underlying importance of agriculture to climate mitigation and the challenge of integrating it into policy approaches.
Agriculture is a significant contributor to global GHG emissions, and consequently has an important role to play in addressing climate change. Agriculture, forestry, and other land uses contribute 30% or more to global greenhouse gas emissions.
More important, agriculture has the potential to reduce GHG emissions through long-term storage of carbon in soils and perennial biomass and through reductions of nitrous oxide and methane emissions. In other words, agriculture has a critical role to play in addressing climate change.
 
First, the Rockefeller Foundation is contributing initial funding to Forest Trends in support of the African Agricultural Climate Finance Facility (ACFF). This facility will innovate, develop, and test new transaction models to support greater investment in smallholder, farmer-driven agricultural mitigation and adaptation projects.
 
In addition, the Rockefeller Center is supporting the Rainforest Alliance with a grant to develop criteria for low-carbon farming techniques for incorporating into their sustainable agricultural standards. These criteria will help drive farmers to adopt practices that decrease their carbon footprint and increase their climate resilience, while supporting environmental services and receiving a premium price for climate-friendly commodity production.
 
Finally, we are proud to be supporting the Nature Conservation Research Centre of Ghana in their on-going work with small holder cocoa farmers to produce shade-grown cocoa, which supports greater long-term productivity, sequesters more carbon, and should also fetch a higher price.