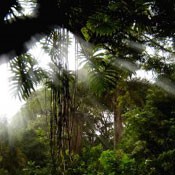 After weeks of frantic typing Ecosystem Marketplace's State of the Forest Carbon Markets report officially launches today in London. The number of registrants is now above capacity, but anyone who confirmed before close of business yesterday is guranteed entry. We will still try to accomodate anyone who still wants to sign up today, but it may be tight.
6 November 2013 | COP19 is just around the corner. Whether you're traveling to wintery Warsaw or just want a refresher on the world of forest finance, join Forest Trends' Ecosystem Marketplace as we unveil our most recent State of the Forest Carbon Markets report on November 6, 2013. The report will be freely available for download on our website on and after this date.
In 2012, the State of the Forest Carbon Markets report was Ecosystem Marketplace's most widely-accessed research product. This year's edition explores topics ranging from global market activity; to the time-cost of the project cycle; to the changing dynamics of forest finance. This year's report is supported by more data points and representing projects in more locations than ever before.
Join us to learn about the results first-hand at our London launch event! Hosted by Ecoinvest Services/Bunge Environmental Markets, we will host a panel of experts to present and discuss report findings from 4:30-6pm, followed by cocktails. The number of respondents is currently above capacity, but feel free to contact Steve Zwick (SZwick@nullecosystemmarketplace.com) if you want to attend and have not registered.  
You're Invited: 2013 State of the Forest Carbon Markets Report Launch, London
When: 4:30-6pm
Where: Bunge Environmental Markets/Ecoinvest (in the Norton Rose building)
  3 More London Riverside SE1 2AQ
  London, United Kingdom