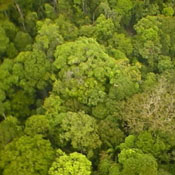 Last month, Precious Woods sold 770,000 tons of Certified Emission Rights to two European firms. The Ecosystem Marketplace gets the story behind the forestry company's million-dollar deal. In the middle of the Amazon rainforest, a conveyor belt runs from a sawmill to a power plant. The physical distance can be measured in yards. But the real distance isn't physical but philosophical—from an antiquated development model to a new one. That might seem like a lot to lay on a little conveyor belt in the middle of nowhere, but this is no ordinary conveyor belt and no ordinary nowhere. This one takes waste wood—typically 50% or more of each log in even the most efficient operations—from the Amazon sawmill of the Brazilian subsidiary of the Swiss forestry company Precious Woods to be burned as fuel in said power plant. That plant supplies energy not only for the company's installations but also for the 80,000 citizens of a remote urban outpost called Itacoatiara. Once costly rubbish, the leftover pieces of logs have been transformed into a valuable source of renewable energy. The sawmill's greenhouse gas emissions are reduced because the waste wood no longer sits around producing methane while company officials fret about a growing fire hazard. And since the city's dirty old generators now run only during peak evening periods, the mayor can reduce costly shipments of diesel into this isolated town on the bank of the Amazon River. "A lot of things that make sense," is the matter-of-fact observation of Andreas Heusler, CEO of the Precious Woods' Brazilian operations. But that's not all. Thanks to the energy savings and reduced pollution, Precious Woods can bolster its bottom line by selling carbon credits to other companies as offsets under the Kyoto protocol, the global treaty designed to reduce greenhouse gas emissions. And the numbers hardly represent peanuts (nor mere wood scraps): carbon credit sales are expected to generate annual revenues of $2-3 million, estimate company officials.
Transforming an Industry
By adding revenues from non-forestry, or so-called "ecosystem" sources, Precious Woods is on the cutting edge of an approach promoted by the International Finance Corporation (IFC)-supported Business Development Facility (BDF) of Forest Trends, the non-profit group that provided technical assistance on the initiative (Note—Forest Trends publishes the Ecosystem Marketplace). "BDF helps companies and communities move from a single-asset to a multiple-asset base by adding non-timber revenue streams for environmental services," says Frank Hicks, BDF director at Forest Trends. Proponents argue that this diversified approach results in additional benefits such as biodiversity preservation, community development, land appreciation, asset protection, risk reduction and positive public relations. "The big picture idea," says Michael Jenkins, president of Forest Trends, "is that we want to transform the timber industry into an ecosystem management industry. In the coming years, we think forests will be worth more to businesses alive than dead. Of course, the trick is proving this big idea for tomorrow to people working on the ground today. We knew we needed an innovative company to work with us on proving that profitable conservation is not just a pipedream."
An Obvious Choice
Precious Woods seemed an obvious choice to take the lead on such an initiative. The Zurich-based firm has adhered to sustainable forestry practices since it was founded in 1990. Its first business decision was to replant native species of trees on abandoned pastureland in Costa Rica. Four years later it purchased 80,000 hectares in the Amazon and soon earned certification for its sustainable logging practices from the international Forest Stewardship Council (FSC), becoming the first company in the Amazon to earn such a distinction. It has since expanded operations in the Amazon and Central America and now manages 530,000 hectares in Brazil, Costa Rica and Nicaragua. "They were ahead on certification and had explored how to utilize their waste wood but weren't really sure how to go about it or the magnitude of the potential benefits," says Hege Salvesen, who spearheaded Forest Trends' work with Precious Woods. The power plant dates to 2002. Koblitz, a Recife-based Brazilian company that specializes in renewable energy generation, had approached Precious Woods about building a power plant next door to its sawmill in Itacoatiara that would run on waste wood. At the time, the Kyoto Protocol and the associated carbon markets were still in their infancy, so the precise mechanisms were unclear, but the investors were confident that the plant would eventually qualify for carbon financing and participated in the venture on that basis. . Precious Woods agreed to supply the fuel. Koblitz and an outside minority investor retained ownership. "We came in as the third party," said Zurich-based corporate CFO Ted Scheidegger. "We had no funds available at the time to invest in the venture, but could at least assure supply of renewable biomass fuel to the project." Around the same time, Precious Woods was exploring ways to make financial hay by marketing its Costa Rican reforestation project as a carbon sink. That led to another milestone: in 2005 Precious Woods became the first provider of forest carbon offsets on the Chicago Climate Exchange, the pioneer emissions credits market in the United States. Also last year, Precious Woods went to the financial markets for a capital increase. Among other things, it used the newly raised cash to purchase an 80% share in the Itacoatiara power plant and fund ongoing operations of the facility. With assistance from Forest Trends, the company then began the arduous task of obtaining approval for carbon credits under the Clean Development Mechanism (CDM) of the Kyoto Protocol. Every little detail had to be verified and the scheme had to be approved by the Brazilian government and CDM Executive Board. "There's a long way to go, even if you have a good project," says Christoph Buholzer, group project manager for Precious Woods.
Here to Stay
The extra effort paid off. On September 15, administrators of the United Nations Framework Convention on Climate Change (UNFCCC) issued credits backdated to April 2002 and running through April 2006. With that approval, Precious Woods was able to sell its carbon credits at a higher price than would have been feasible earlier in the process when there was much less certainty. With this extra revenue from emission rights, the funding of the power plant operations by the Precious Woods Group was finally put on sound footing, securing the long term future of the project. Less than a month later, on October 10, Precious Woods announced its entrance into the European Union's Emissions Trading Scheme with the agreement to sell 770,000 tons of Certified Emission Rights from its bio-energy project in Brazil. Almost immediately two unnamed European firms purchased the credits, awarding Precious Woods a one-time net $6 million windfall. "CDM has been a leap forward," says CFO Scheidegger, before adding, "All funds generated will be reinvested in sustainable forestry projects in impoverished regions of Latin America and Africa, multiplying the environmental and social return of the project." Indeed, Scheidegger predicts non-forestry revenues will continue to grow. "The markets for ecosystems services will become increasingly important," he says. "We see a mega-trend driving the markets. We are here to stay." A former correspondent in Brazil for The Financial Times and Business Week, São Paulo-based Bill Hinchberger is the founding editor of BrazilMax, a website about Brazilian culture, society and travel, and of the BrazilMax News and Features Agency. First published: November 20, 2006 Please see our Reprint Guidelines for details on republishing our articles.