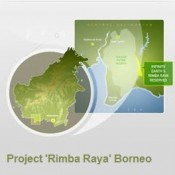 The Rimba Raya REDD Project is on again – one year after being put on ice when Indonesia's Ministry of Forestry promised half the project's territory to a palm oil company. That decision has now been reversed, and the project is set to preserve an orangutan habitat the size of Singapore, generating millions of dollars in carbon income for local communities along the way.
6 December 2012 | Doha | Qatar | It was a fitting end to a topsy-turvy year for Todd Lemons and Jim Procanik.   As co-directors of carbon project developer InfiniteEARTH, they spearheaded the Rimba Raya Biodiversity Reserve REDD Project, a ground-breaking endeavor that will conserve 80,000 hectares of rainforest and generate 104 million credits over 30 years and was finally green-lighted last week. The announcement became official at climate talks here, a little more than a year after the Ministry of Forestry said it was giving half the project's territory to a palm oil company.
Reuters credits the Ministry of Forestry's reversal to intervention by Singapore-based businessman Rusmin Widjaja, Central Kalimantan governor A. Teras Narang, and Triwatty Marciano, whose husband, Marciano Norma, heads Indonesia's State Intelligence Agency.
Whatever its cause, the decision could keep tons of carbon locked in peat swamps while habitat for one of the world's last wild orangutan populations will remain undisturbed.
The Project
Rimba Raya is the world's first REDD project on deep peat and Indonesia's first REDD project and could funnel billions of dollars into community development projects that provide access to clean water, childhood development, health services, reforestation and eco-tourism.    
It's located in the tropical peat swamp forest on the island of Borneo in Central Kalimantan province in Indonesia – a country with the highest rate of deforestation in the world, according to the 2008 and 2009 Guinness Book of World Records, although Yuyu Rahayu, the Ministry of Forestry's Director of Forest Resources Inventory and Monitoring, speaking at a side event here last night, said that deforestation has plunged dramatically in the last three years, and that the country was on track to reduce its deforestation rate by 26%. Central Kalimantan has the world's fastest rate of forest conversion to palm oil plantations, says Indonesia Forest Watch.
The Biodiversity Reserve also houses six species of endangered mammals-one of those being the orangutan.
Saving Indonesia's forests are crucial to fighting climate change. Its forests and peat swamps release huge amounts of carbon when they are cleared and drained.            
"I am happy with the work progress in Jakarta and soon enough we can focus on the important work of community development and orangutan habitat conservation in the Rimba Raya project area," says Procanik.
"Rimba Raya represents the hope and future of an entire species," says Dr. Biruté Mary Galdikas, the ounder of the Orangutan Foundation International. "Once the Minister signs the decree, Rimba Raya will be one of the most important orangutan conservation projects in the world."
The area is also home to hundreds of threatened and endangered species of flora and fauna.
Long Road to Success
In 2010, Rimba Raya had hit several milestones. It was verified and validated under the VCS (Verified Carbon Standard) and the CCBA (Climate Community and Biodiversity Alliance), was the first project to develop a REDD methodology and was on track to become the first REDD project to issue credits. The energy giant, Gazprom, invested in the Rimba Raya project saying they had buyers lined up while both Indonesia's president and the governor of Central Kalimantan endorsed it.
But the Ministry of Forestry unexpectedly said it was giving almost half of the project's territory to PT Best Group for palm oil development in 2011. Shortly afterwards, Indonesia's Corruption Eradication Commission was sent to investigate the concession process.
The Ministry said it was skeptical of InfiniteEARTH's economic development projections, and it argued that the financial benefits of converting forests into palm oil plantations and other development projects outweighed payments for ecosystem services, like water filtration and carbon storage, they would receive if the forests were left intact.
"Mutual friends, that both parties trust, have facilitated a dialog between our two companies and we now understand that Rimba Raya and its developers, InfiniteEARTH,represent a new breed of conservationists that recognize Indonesia's right to develop its natural resources," says Winarto Tjajadi, who runs PT Best along with his brother.
InfiniteEARTH said in a statement the Rimba Raya Biodiversity Reserve is a benchmark for everything REDD can accomplish and Indonesia has now cleared the way for that to happen.
"Every day we borrow from our children's future by consuming more than we replenish and by not paying for valuable ecosystem services," says Todd Lemons. "Four years ago, I promised my children more than just a 'carbon neutral' and 'sustainable' future. I intend to deliver on that promise and I intend to repay that debt."
Additional resources