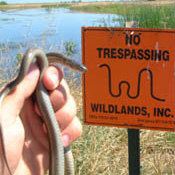 Wildlands, Inc. recently announced that Parthenon Capital, a private equity firm with over $1.5 billion under management, has invested in the company. The Ecosystem Marketplace finds out how Wildlands, Inc. plans to put the new capital work. A rugged outdoorsman with an inventor's creativity, Wildlands, Inc. president Steve Morgan is a can-do kind of guy whose foray into mitigation banking was born of pragmatism. An avid duck-hunter, Morgan built a private 500-acre marsh to encourage duck migration in 1994. But as he sat on his porch admiring his accomplishment, state highway department officials waded through his land. Their mission, he learned, was to survey the marsh and then seize it to build a highway bypass. Instead of suing them, Morgan found a way to turn the situation to his advantage. Under the Clean Water Act of 1972, private and public developers must compensate for any wetlands they destroy. When Morgan discovered that the U.S. Army Corps of Engineers approves wetland mitigation banks as a means for developers to meet this requirement, he crossed the street and bought 315 acres of land. He restored the wetlands on the parcel and then sold it to the state as mitigation for the highway they were building through his original property. Morgan thus founded the first wetlands mitigation bank in California and launched what was to become the business he now owns and runs: Wildlands, Inc. Just over two decades later, Wildlands now runs 40 wetland mitigation and conservation banks in California and Washington State. The company has restored over 25,000 acres of habitat and has plans to expand dramatically. To fuel this growth, Wildlands recently announced that Parthenon Capital, a private equity firm with over $1.5 billion under management, has invested in the company. The aggressive capital infusion could change the face of wetlands banking, enabling Wildlands to take this typically regional industry to a national level. Many say the partnership, coupled with Wildlands' steps to open a dozen new mitigation and conservation banks, offers a peak at the future of environmental banking. "This," says Morgan," is a major jump in a very young industry."
By the Numbers
Acquiring land at a rate of 4-5,000 acres each year, Wildlands has added seven new mitigation banks to its portfolio in the past four months and has five more banks pending approval. According to Morgan, the banks offer sanctuary to a variety of threatened animals, including Chinook salmon and California tiger salamander. "Our success barometer is not the money we make but the sum of the acres we preserve," says Morgan. "It takes a business model to do that." Wildlands typically pays between $12,000 and $20,000 per acre for properties it plans to restore. Once the habitat has been restored, wetlands mitigation credits sell for between $30,000 and $300,000; endangered species credits run between $3,000 and $50,000. Thanks to California's rapid-fire development, mitigation bank credits have, to date, been swooped up quickly despite their hefty price tags. Unlike many mitigation banks, Wildlands holds on to its land in perpetuity. "Steve has done an unbelievable job bootstrapping the company," says Parthenon vice president Andrew Dodson. "To take the company to the next level, it needs a financial investor to help it grow and increase the magnitude of acres conserved."
Sealing the Deal
Once a diehard bachelor, Morgan, 57, marvels at how much his life has changed. Now married, he says he spends most of his free time with his wife and seven-year-old identical twin girls. His daughters sat on their first horses when they were one year old, he brags, caught their first fish at age 2, went hunting with their dad by age four and "continue to roam the land with me." Coincidentally, a cold call from a fellow father of identical twin girls transformed his business model as well. Parthenon's Dodson—the father of four-month-old twins—says that his company has tracked Wildlands' growth for the past three years. Parthenon typically invests in financial services, health care and high-tech manufacturing companies to make money for pension-fund investors. Their investment in Wildlands – signed December 26, 2006 – marks Parthenon's first play in environmental markets. It also marks the first purely profit-driven private equity investment in mitigation banking in the United States. But from an investment perspective, Dodson says the jump into environmental markets is a fairly conservative step for his firm. Parthenon's six-month due-diligence investigation revealed that Wildlands scored investment returns spanning between 20 and 30 percent. And last year, Wildlands achieved returns of 35 percent. Of course, Dodson says, "every deal is a risk. What we get paid for is finding the highest return with the lowest risk. We feel the wetlands market is here to stay because it answers a fundamental environmental need." With the European Union already embracing carbon markets to reduce carbon emissions, the United States is bound to rely increasingly on environmental markets to solve environmental problems, says Dodson. Already, mitigation banks have grown in popularity in the United States by offering economically sound solutions to environmental challenges. They provide hundred-to-thousand-acre thriving wetland landscapes that replace otherwise ad hoc, often half-acre sights that are prone to failure. And they have bipartisan banking, with the former Democratic Clinton administration as well as the Republican administrations of George Bush Jr. and Sr. embracing them. Don Ewoldt, the newly elected president of the National Mitigation Banking Association explained its bipartisan appeal. "The Republicans are pro business and the Democrats are pro environment," he says. "We're a business enterprise that is definitely positive for the environment."
The Next Phase of Growth
Successful banks can charge top dollar because the industry has, so far, been unable to keep up with market demand. Mitigation banking is capital intensive, meaning it requires upfront funding to create wetlands before it can begin to recoup investments. So Wildlands, similar to other mitigation banking companies, uses banks as seed money, rolling profits back into land acquisition. Now Wildlands can instead invest Parthenon dollars. Although Dodson and Morgan declined to disclose Parthenon's exact investment, records reveal that Parthenon normally invests between $20 and $100 million per company. Dodson says that Parthenon typically expects to turn a profit within five to seven years after investment, a time frame that works well with mitigation banking whose wetlands are restored and ready for sale as wetlands within a few years of purchase. Dodson sees his company's investment as making Wildlands "uniquely positioned to excel on a national level, leading the industry into the next phase of growth." As a first step, Morgan says Wildlands plans to expand to the east coast, opening offices in Charlotte, North Carolina and moving north and south from there.
Bypass to the Future
Despite its rapid growth, mitigation banking still faces major hurdles. The regulatory environment is continually changing, and mitigation bankers compete for land with developers who are flush with cash. As a result, private equity investment in mitigation banking will likely play a significant role in this environmental industry's future, Ewoldt says. Although Parthenon and Wildlands were the first to announce their partnership in the mitigation banking business, Ewoldt revealed that several mitigation bankers and private equity firms are in the midst of negotiations, although he declined to name them until the deals are signed. Meanwhile, 23 years after surveyors waded through Morgan's duck club, the California highway department bureaucracy still has not built a bypass. But the mitigation banking business the department inspired is thriving. Alice Kenny is a regular contributor to the Ecosystem Marketplace. She may be reached at alkenny@nullaim.com. First published: April 23, 2007 Please see our Reprint Guidelines for details on republishing our articles.