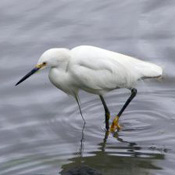 The city of Napa in the United States has invested over US$200 million in an innovative flood control project relying on wetlands and a living river. Floods hit the city on December 31, 2005, the Ecosystem Marketplace finds out what happened. Napa is a river city. That was clear on New Year's Eve 2005, when the Napa River overflowed it banks, reaching 20- to 50-year flood levels. Roofs became islands in the muddy floodwaters and people wrapped in yellow slickers piled sandbags against the deluge. As of late January, damages from the New Year's flood were estimated at $70 million for the city of Napa and over $100 million for the county, with at least 1,200 homes and 250 businesses impacted. Despite local and nationwide shock at the flooding, high waters are not an anomaly. Just below the city of Napa, the river spreads into the San Pablo Bay estuary – a strategic point for shipping and trade, but one inherently prone to flooding. Including the New Year's flood of 2005, Napa has suffered 27 major floods since 1862, when recording first began; residents bore $542 million in property damage between 1961 and 2000, alone. While Napa's suffering is hardly unprecedented (floods are the most common natural disaster in the US), the city's approach to addressing its flooding problem is unique: unwilling to live with levees and concrete barriers, Napa citizens designed a flood mitigation plan in the late 1990s that would bring their river to life.
A Living River
Napa residents had already rejected several flood plans for being costly and environmentally insensitive when, in 1996, a Community Coalition brought residents, businesses, government entities, environmental organizations, and Chambers of Commerce together with the Army Corps to create a flood mitigation plan acceptable to all. Instead of a deep, straight concrete channel, yearly dredging, and tall floodwalls, the new plan designed a living river reconnected to its historic floodplain through bank terracing and a parkland bypass channel. Culverts and levees would be complemented by hundreds of acres of restored tidal wetlands downstream from the city to accommodate the spread of floodwaters. In total, the project would mitigate flooding over six of the 55 miles of the Napa River and one mile of Napa Creek. Projected to cost $45 million more than the Army Corps of Engineers' original flood plan, the living river was no cheap buy. But Napa residents voiced their support for the plan in 1998 by approving a ½ percent sales tax increase to underwrite their portion of the project. After all, they reasoned, Napa's living river would provide much more than flood management. The original $155 million budget had additional goals of restoring habitat for fish and wildlife, balancing sediment transport to make dredging unnecessary, improving recreation and aesthetics, and enhancing the human environment, all of which would help revitalize downtrodden downtown Napa. In sum, Napa's living river plan was a material product of the idea that healthy ecosystems can supply valuable services such as flood mitigation at less overall cost than the conventional, and often ineffective, strategy of militarizing a river. The Napa Flood and Water Conservation District projects the project, once completed, will save $26 million in flood damage costs each year. And by protecting over 2,500 properties in the floodplain from water levels as high as the 100-year flood, the plan should reduce expenses for flood insurance, which currently costs residents at least $1 million each year in premiums. Eight years and US$200 million after the project began, however, innovative flood management looked soggy over New Years 2006, when television viewers throughout the US were bombarded with images of buildings under water, cars afloat, and layers of mud strewn through homes and across streets. What happened? Did Napa residents get duped by the promise of ecosystem services?
Too Early To Judge
"All around the community, people are saying, 'Oh yeah, all that money they wasted, all those millions, it didn't work,'" Barry Martin, spokesman for the Napa County Flood Control and Water Conservation District, told the Press Democrat a week after the flood. But Heather Stanton, project manager at the Napa Flood and Water Conservation District, says that, had the project been finished, it would "absolutely" have controlled the flooding that occurred over New Years. She describes water coming off the oxbow and "sheeting across towards Soscol Boulevard, trying to get back to the river" as exactly the phenomenon that the natural parkland bypass will control when it is finished. "People are always impatient; they want everything to happen yesterday," says Bernhard Krevet, president of Friends of Napa River. But most of the Napa Flood Project will happen tomorrow–at present it is only 40% complete. According to the website of the Napa Flood and Water Conservation District, "The money spent so far has gone to acquire property, build four bridges, relocate utilities, restore 600 acres of wetlands, and construct about two miles of flood plain and marsh plain terrace." Even with the project only partially realized, many areas that normally flood in waters this high stayed dry. Stanton attributes this to the new, higher bridges and the terracing that has been completed. She also points out that floodwaters receded much more rapidly than they have in the past and attributes this to the wetland restoration downstream. Defenders of the project are quick, too, to cite some of its associated economic and environmental benefits. Bernhard Krevet, president of Friends of Napa River, talks about the increase in birds and fish and even the occasional sea lion and sea otter that makes its way upstream from the San Francisco Bay. He's excited that new riverfront trails have caught on "not only for hikers but also for bicyclists, anyone who wants to enjoy downtown without a car." And he describes the lot near the 3rd street bridge that has been transformed into an upscale retail center. The City of Napa's Economic Development Office confirms that underdeveloped downtown properties saw a major increase in private investment after the flood plan was approved – to the tune of $193 million spent on private construction from 1999 to 2005. Side benefits or no, the impatience of community residents who welcomed 2006 with putrid mud in their living rooms is understandable. The Napa River Flood Project was originally slated for completion in 2006; it is now on track to be finished in 2011 at the earliest. Review of the facts thus suggests that, while the recent floods in Napa may not definitively answer questions about whether or not natural flood control works, they do offer some insight into the financial and political struggles that probably lie in wait for big ecosystem services projects of all kinds.
The Risk Factor
The delays to the Napa Flood Control Project are largely financial. According to a June 2005 Financial Oversight Committee report, costs have increased almost 65% from the original estimate, to $288 million. The increase is in part a byproduct of the success of the plan. The Napa Office of Economic Development describes the living river aspect of the flood plan making downtown properties more marketable–increased property values have driven up the cost of land acquisitions. And while Napa's sales tax has consistently provided more than original estimates–53% more than budgeted in 2003/2004–federal and state funding has continued to come up short. The budget crunch recommends two lessons to those considering ecosystem services projects. First, cost estimates should take into account fluctuations the project might drive in real estate prices in those areas where it hopes to work. And second, project managers should be wise to the fact that, while the novelty of an ecosystem services approach might win political attention and promised dollars in a project's early days, it takes sustained pressure to ensure regional and federal support doesn't dry up. A third, but not unrelated lesson, is the value of managing expectations. Since ecosystem services projects are sometimes painted as a panacea, their fall from grace in the eyes of the public risks proving a particularly steep tumble, be it deserved or not. Flood district officials in Napa, for instance, worry the public may have unreasonable expectations of what even the healthiest ecosystems or sturdiest levees can accomplish. Krevet seems slightly dumbfounded that people are surprised each time water levels rise: "People either get panicky or else pretend it doesn't happen." And he's very concerned about the folks who don't believe they'll be exposed to flooding during the 100 years after a 100-year flood. Stanton, too, doesn't believe residents really understand the risks. Reoccurrence terminology, though widely used by flood managers and disaster officials, can be somewhat misleading: 100-year floods don't happen only every hundred years. A "100-year" size flood has a 1% chance of occurring in any year. While a 1% chance of getting wet might seem like a reasonable risk to take each year, over 30 years a resident has a 26% chance of experiencing a flood of this size. Decisions about risk are critical to any flood project, because for every additional foot of protection, mitigation costs increase. The Napa Flood Management Plan is designed to protect people and property from 100-year flood levels, but, ultimately, Napa residents must decide if this is a level of risk they are willing to take and a level of protection for which they are willing to pay. To help them decide, the Napa Flood and Water Conservation District has posted information about reoccurrence terminology and risk assessment on its website (http://www.napaflooddistrict.org/) and launched a major public outreach campaign in late January.
Silver Lining
In addition to using the New Year's flood to improve people's understanding of ecosystem services and flood risks, the Napa Flood and Water Conservation District is also pulling new funding opportunities from the high waters of the New Year's flood. "[T]here is the possibility of a silver lining in the storm clouds, a chance that something good can come from our misfortune," writes Stanton on the District website. Specifically, some hope the New Years flood will help Napa finish what it so bravely started in 1998. In a January 10 letter to the President, California Senator Diane Feinstein and Representative Mike Thompson noted that areas where the project had been completed suffered little damage and lobbied for the $31 million necessary to allow the Army Corps to work on the project at full capacity in 2006. "We're getting a visit from the U.S. Army Corps of Engineers in Washington D.C. in February to see how they can accelerate the project and ask for more funding from the White House," Napa Mayor Jill Techel told the Vallejo Times Herald on January 23. "We're hopeful they will see the need to finish the project and that it's a project that makes dollars and sense." Kate Brauman studies water related ecosystem services at Stanford University. She may be reached at kbrauman at Stanford.edu. First published: February 3, 2006