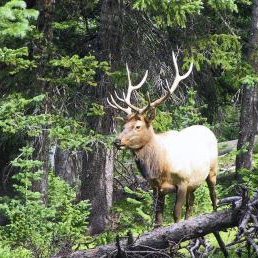 In Montana, the last decade has witnessed a growing recognition that conservation can pay for itself (and more) when government policies get the incentives right. With explosive development in the Rockies, the Ecosystem Marketplace learns how conservation payment schemes in the public and private sectors benefit people and wildlife in the American West. Paul Roos grew up in the small town of Lincoln, Montana in the heart of the Blackfoot Valley. For more than 30 years, he has shared his reverence for fishing, hunting and floating the river with sportsmen from around the world. "The river has a lot to say about the health of the valley," says Roos. "By the early 80s, the river was in great decline. In 1985, I guided one day all summer because the fishing was so poor." These days, Roos says the Blackfoot is in much better shape, in part because recreational tourism has become big business under Montana's big sky. Fishing, hunting and wildlife services pull in more than $1.1 billion in annual revenue, roughly that made by the state's timber and mining industry. As a founding member of the Blackfoot chapter of Trout Unlimited (BCTU), Roos is familiar with the traditional fundraising model of conservation finance in the United States–he helped the BCTU raise $5 million toward protecting and restoring Montana's river systems through the years. But putting so much time toward raising money for habitat preservation was frustrating to a man who liked to spend most of his time outdoors, so Roos began to look for another way to tap money for conservation. In 2004, Roos and his business partner, John Kowalski, joined forces with Boston-based private equity investor Fred Danforth (a former fishing client) to form a mitigation bank, a new kind of private sector conservation business in which landowners restore habitat and then sell mitigation credits to developers destroying habitat elsewhere. With approval pending from the Army Corp of Engineers, Roos' Oxbow Land Management now stands ready to become the first active mitigation bank in the northern Rockies in a matter of weeks (see From Successful Financier to Mitigation Banker: A profile of Fred Danforth).
Redefining Montana's Economy
Roos' gradual conversion from outdoorsman to non-profit leader to private sector conservationist is indicative of a larger shift now underway in Montana. Burgeoning economic growth in Rocky Mountain states has led some demographers to dub the geographic region the "Third Coast," says Suzanne Miller of Dunrovan Consulting in Missoula, the lead consulting firm for a recent study commissioned by the Montana Department of Fish, Wildlife, and Parks (FWP). "What makes Montana unique along that Third Coast is our wildlands and wildlife. Those two are really Montana's brand, which provide a unique quality of life," Miller says. "For years conservation has been seen as an impediment to economic development, but in fact what we are finding is that conservation is a spur to economic development." The $1.1 billion revenue Montana FWP generates is balanced between fishing ($422 million), hunting ($300 million), and watchable wildlife viewing ($391 million) expenditures as well as the sale of durable goods for those activities. More than half (58 percent or $41.2 million) of Montana's 2004 FWP budget ($71.4 million) came from the sale of hunting and fishing licenses. "Montana is rapidly focusing away from natural resources as a commodity [for extractive use] to natural resources as an amenity [for sustainable use]," Miller added. FWP's Block Management program, for instance, pays private landowners up to $12,500 annually to manage habitat for popular hunting species like elk. In 2004, the program paid out $4 million to landowners for some 400,000 hunter-days of access on 8.5 million acres of habitat. Three-quarters of the funding for Block Management comes from special non-resident license fees paid for guided outfitting services. "We have the most successful public access to private lands program in the U.S.," says Land Tawney of the National Wildlife Federation. "If you look at other organizations–like the (Rocky Mountain) Elk Foundation, Ducks Unlimited, Pheasants Unlimited–sportsman's dollars are helping those organizations buy habitat." Similarly, the FWP's Future Fisheries program, funded through fishing license fees, provides grants for stream conservation projects in the state. "We're known in the angling community for having really good native trout," says Michael Gibson of Trout Unlimited. "Wild fisheries are a thing a lot of other states don't have and it's a big attraction here." "Guides and outfitters realize their livelihoods come from helping fisheries, which really depend on cold, clean water," says Tom Reid, also of Trout Unlimited.
For-profit Conservation
With government agencies increasingly routing recreational fees back to private landowners for conservation work on their property, it has not taken long for entrepreneurs like Roos to recognize the private sector potential for conservation in Montana. In 2002, Oxbow purchased the Potts' ranch, a 1,920-acre estate situated not far from Roos' hometown of Lincoln. The company renamed the parcel Nevada Spring Creek Ranch banked roughly 10,000 feet of stream credits from the restoration work. The company hopes to sell those credits in a way that will not only recoup their investment, but also make them a nice profit. "There are a million different eco-assets you can tap into," says David Patrick, a partner at Oxbow Land Management. "The trout fishing alone on some of these ranches is worth a fortune. The duck hunting is worth a fortune; the elk hunting and duck hunting is profitable, but some of this other stuff is just phenomenal." Importantly, observes Patrick, new conservation revenues in Montana not only signal exciting economic opportunities for the state's longtime residents, they also promise significant habitat improvements for its wildlife. Western ranch land suffers degradation from a variety of agricultural practices: cattle grazing, growing and cutting hay, and other forms of livestock production. In addition, timber and mining operations denude habitat on a large scale. "We have enormously attractive natural resources," concludes Patrick, "and many of them have been damaged." Indeed, past land use practices have led to a need for landscape scale restoration throughout much of Montana, but for ranchers who are already breaking their backs to continue ranching the land, such large-scale restoration is, according to Patrick, "hard to accomplish without some extra economic inputs." Enter the importance of new for-profit conservation activities. "[If] improved resources begin to draw fee-paying recreational users," explains Patrick, "you then have a revenue stream separate from agricultural revenue." Restored ecosystems on ranchland, for instance, might be eligible for conservation easements that would reduce tax burdens while maintaining agricultural practices on separate parts of the ranch and creating recreational permitting fees. Private funding, meanwhile, might be used to restore habitat sold as mitigation credits, and ranches retaining good water rights could also generate revenue from in-stream flow programs in which conservation interests pay ranchers not to exercise their right to draw water from natural watersheds. "The most important thing about conservation incentive programs is the ability to create economic sustainability in a rural landscape," says Patrick, who also argues that such programs allow "conservation to be done at a quicker pace and on a larger scale." Based on this idea, six geographic regions in western Montana have been targeted by Oxbow for further mitigation banking sites. These areas have significant natural resources that are now damaged but can be restored and are near population centers boasting strong economic growth. The future projects undoubtedly will keep Oxbow busy, but, sitting down for a coffee in Missoula, Roos says he believes restoring wetlands and blue-ribbon trout streams may just be the best way to ensure a future for the Blackfoot Valley he has loved and lived in his whole life. "You've got to take care of the economy if you're going to take care of the environment. The way to make yourself successful, is to help others be successful. People who feel secure begin to take a broader and longer view." John Andrulis is a freelance writer based in Missoula, Montana. He may be reached at jandrulis@nullhotmail.com. First posted: November 14, 2005