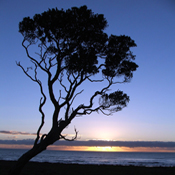 In the midst of New Zealand's urbanizing economy, indigenous Maori landowners are looking to environmental markets and conservation easements to help maintain their livelihood and culture in the rural hill-country of New Zealand's North Island. The Ecosystem Marketplace spotlights the challenges and opportunities associated with paying for ecosystem services on communal lands. Rangitukia, New Zealand– Rangi Raroa smiles as he surveys the shaggy forested slopes surrounding his hill-country farm on New Zealand's North Island. Part of a new generation of Maori farmers who are integrating traditional land uses with emerging opportunities in environmental markets, Raroa has a lot to smile about these days. He has retired a large part of his farm in a Maori conservation reserve program called Nga Whenua Rahui. "The advantage to us is that it's an area that's going to remain in native bush. We're never ever going to develop those areas–we don't want to develop them. We'd rather they regenerate so [the forest] is always there." In a country where strong environmental values coexist with pride in self-sufficiency and entrepreneurship, Raroa is not alone in his enthusiasm for environmental markets. Many of New Zealand's rural landowners have been keen to find ways to capture the benefits of markets for biodiversity protection, watershed restoration and carbon sequestration as they work to keep their place in a rapidly urbanizing economy. In the midst of this revolution, indigenous Maori landowners are seeking ways to capitalize on their role as the original stewards of the country's ecosystem services. Farmers like Raroa, however, have succeeded in the face of tremendous cultural, economic, political and environmental obstacles–leading some to ask how environmental markets can be structured to better serve indigenous communities in New Zealand…and elsewhere.
Market Barriers
In the global dialogue about how to design markets for ecosystem services, the Maori have much to contribute. They, like many indigenous people, have struggled for generations to maintain rights to their land, developing a complex system of communal ownership in the process. Under this system, many individuals, often from the same family or tribal group, share a single block of land. Within each block, decision-making authority is vested in elected leaders, a system that can prove complicated when younger and older generations do not agree. "The senior generation of Maori leaders, often the ones in positions of authority, were brought up to follow the European model of farming–being a 'good farmer' meant keeping the land clear and animal numbers high," says Garth Harmsworth, Maori researcher and soil scientist. "However, the land on the coast can't support that system of agriculture for very long. Within a few decades after clearing, the land on the east coast simply falls to bits." The ownership structure can also create a financial barrier to opportunity. The legal definition of Maori land makes it virtually impossible to alienate the land from its owners–and thus, it cannot serve as collateral for loans or agreements. As a result, banks, businesses, and investors have shied away from deals with Maori landowners and Maori have been largely unable to participate in the soaring New Zealand real estate market. Compounding the difficulties Maori landowners have in accessing the private sector, are the problems they face when navigating the public sector. Creating programs well suited to Maori ownership, management, and values has proven difficult for the government. Many Maori feel left behind by New Zealand's rapid economic development, leading them to mistrust a government that has not always delivered on past promises of sustainable development. Relatively few landowners have been willing to work directly with the government–and when they do, it is often against the wishes of tribal leaders. Despite the difficulties they face–or perhaps in response to them–Maori have developed opportunities suited to their ownership paradigm, discovering some unique competitive advantages in the process.
Kaitiakitanga
Maori memories and connections to the land run deep. Family burial grounds, sacred sites, and cultural areas carry a significance that few outsiders understand. Tribal knowledge can extend back ten or more generations, seamlessly connecting ancestors with the deities present in trees, mountains, and waters. Such lore, passed down through oral tradition, strengthens the ties of Maori to their lands. Not surprisingly, environmental initiatives have met with acceptance, in principle, among Maori. The value of preventing erosion, preserving water quality, restoring forests, and protecting biodiversity does not need explanation–it is an integral part of Maori culture. And so, while tribal structures may obstruct quick decision-making, they are uniquely effective when it comes to catalyzing a cohesive decision-making process throughout entire landscapes. In contrast to the disaggregated, short-term decisions of non-Maori landowners, Maori leaders are able to articulate a vision of resource management that includes all of the tribe's assets: including its economic, social, and natural capital. If this structure can overcome some of its weaknesses, it may serve as an effective model for other groups that have a collective interest in sustainable land management. One of the most successful conservation schemes on Maori land is the Nga Whenua Rahui program. The program provides income to Maori farmers in exchange for their stewardship of the biodiversity on their land, creating a private conservation estate that exceeds 230,000 hectares. In recognition of the sovereignty of future generations over their own lands, the Nga Whenua Rahui program uses easements limited to 25 years. This provision flows from the Maori ethic of stewardship, called kaitiakitanga, which calls for balance among the legacy of past generations, the needs of the present generation, and the opportunities available to future generations. To environmentalists, that might sound remarkably like the definition of 'sustainability.' Another example of success has been the creation of tribal corporations and cooperatives. The Ngati Porou Whenui Forests Limited (NPWFL) cooperative, for instance, brings together Maori landowners and Maori agencies to capitalize on market opportunities and attract foreign investment. "We now manage over 13,000 hectares of plantation forest on the East Coast, mostly exotic pine. In terms of sustainability, we set aside 25% of that land in reserves–compared to 8-10% for the rest of the industry," says Chris Insley, CEO of NPWFL. Insley envisions a future when sustainable forest management will be a driving force for economic growth among the Maori. Already, NPWFL has successfully utilized government incentives for reforesting erodible lands, while insulating landowners from government involvement. Such tribal cooperatives could be a workable structure for efficiently managing indigenous resources, overcoming mistrust, and maintaining practices consistent with cultural values. And, importantly, they could allow Maori farmers to participate in the emerging carbon market created by the Kyoto Protocol.
Carbon Farming
Because Raroa's current reserve was already closed-canopy forest in 1990, it is too old to qualify for carbon credits under the Kyoto Protocol. However, he has other areas he would like to set aside for carbon sequestration. "There are very marginal areas on all the farms around here. It would be ideal to fence those areas off anyway, and if you can get something from that land via carbon credits, well then, that's a bonus." As markets for carbon develop, carbon forestry could be integrated into an alternative system of managing land. "Carbon farming" with native trees could provide soil stabilization, forest habitat, flood control, and climate benefits, as well as serving customary Maori uses. Even at low prices, such a system would be competitive on the most marginal lands and income from multiple sources would insulate landowners from volatility in individual markets. For Maori landowners, aligning the different opportunities for environmental and cultural benefits will continue to be a challenge. Innovative business models like NPWFL are leading the way, but tribal leaders will have to make some courageous decisions if such models are to become widespread. Policymakers also must pave the way for Maori stewardship to be recognized and compensated within New Zealand's environmental policies. The work won't be easy, but, if Raroa's smile is any indication, the rewards may be worth it. Jason Funk is a regular contributor to the Ecosystem Marketplace. He has spent much of the past seven months working with Maori landowners in the Tairawhiti region near Gisborne, NZ. He may be reached at jfunk@nullstanford.edu. First published: January 24, 2006