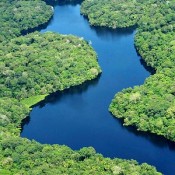 The International Institute of Environment and Development (IIED) has collected key environmental news stories that include Brazil's rejection of gold mining at an Amazon dam site while farmers in India are producing record amounts of rice without herbicide and GM seeds as well as reports on sea-level rise and pollution related disease increases, in their latest post.
In Our World is a blog series from IIED covering the environment and development-some from the real world and some from the online world. Click here to read this article in its original format.
19 March 2013 | Fred Pearce — writing for Yale Environment 360 — examines whether 2012 was the worst year yet for violence against those working to protect the environment
Mining Matters
Mongabay.com reports that Brazil has rejected a Canadian company's bid to mine a controversial Amazon dam site for gold.
Global Witness has welcomed the move by EU finance ministers to maintain sanctions against Zimbabwe's diamond sector.
From the Blogs
Kirsty Newman gets beyond the hyperbole about science and development.
Rosebell Kagumire profiles Congolese journalists and activists whose freedom of expression is never certain.
South-to-South
China has overtaken the EU as Brazil's top trading partner, says the Climate News Network, which explores what this means for the Amazon and agriculture.
Forest Crime
INTERPOL's has arrested close to 200 people and seized of millions of dollars' worth of timber in Latin America, in its first international operation targeting large-scale illegal logging.
Climate Action (or Inaction)
Edward Cameron explains why he thinks climate justice will dominate the UN talks this year in this piece for Responding to Climate Change.
Brazil, South Africa, India and China are disappointed over low ambition from industrialised nations.
Do you know what the world is getting wrong about China and climate change? Chinadialogue's Xu Nan and Zhang Chung explain.
Opening Up
Elementa: Science of the Anthropocene is a new, non-profit, open-access journal.
The UN Environment Programme has opened up its governance to all nations rather than the minority that usually sit on its governing council.
Better Harvest
The UN treated government ministers and officials to a meal of blemished African fruit and vegetables to highlight how European supermarkets reject edible food.
In a village in India's poorest state, Bihar, farmers are growing world record amounts of rice – with no GM seeds, and no herbicide, reports John Vidal.
Something in the Water?
The new State of the Science of Endocrine Disrupting Chemicals report by the United Nations Environment Programme and the World Health Organization paints a complex picture of how pollution and factors such as age and nutrition could explain disease increases.
New Scientist's Michael Marshall reports on a new study that says coastal areas in India, Bangladesh, Japan, South Africa, Argentina and Australia are likely to face more sea-level rise than other countries.
Land Grabs
Jonathan Glennie writes on the Guardian's Poverty Matters blog about a report that makes the business case for companies investing in land to work with local communities.
Matt Collin responds on the Aid Thoughts blog to urge people to remember the roles of governments and governance in the great land story that is unfolding.
Mike Shanahan is IIED's press officer.
Additional resources