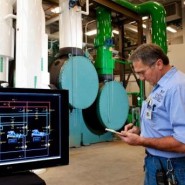 Chevrolet has been one of the most active and prominent buyers of carbon credits in the voluntary market in recent years. Now a potentially game-changing new program financed by the automaker aims to reward US-based colleges and universities for renewable energy and energy efficiency projects undertaken via a new methodology under the Verified Carbon Standard.
13 February 2014 | When Ball State University joined the American College and University Presidents Climate Commitment (ACUPCC), it vowed to slash its greenhouse gas emissions 40% by 2020. Then it identified nine pilot projects to help it achieve its goal "as funding becomes available".
Now Automaker Chevrolet is helping to make some of that funding available by purchasing roughly 400,000 to 500,00 carbon credits from institutions of higher learning that undertake energy-efficiency and renewable-energy projects.
Not only is Chevrolet buying the credits, but the company financed the development of a new methodology that made their creation possible. The exact price the automaker will pay each institution for credits is confidential, but likely around $5 per metric ton.
"It could potentially be a game-changer in carbon reduction and the carbon market," said David Tulauskas, director of sustainability for General Motors, Chevrolet's parent company. "For the first time, it offers a streamlined, easy process for universities and colleges, many have set a target to become carbon neutral in the future, a way to monetize this."
Specifically, the methodology developed under the Verified Carbon Standard (VCS) provides the procedures for quantifying reductions in "Scope 1", or direct, stationary combustion emissions and "Scope 2", or indirect, electricity emissions achieved as a result of campus-wide interventions or through Leader in Energy and Environment Design certification of individual buildings.
"There hasn't been a convenient way for higher ed institutions to enter the carbon market and to effectively participate," said Robert Koester, professor of architecture and chair of the Ball State University Council on the Environment. With the new methodology, "that barrier is gone.
Colleges and universities are increasingly pursuing clean energy and energy efficiency projects as part of a widespread sustainability movement in the higher education community, which has a built-in base of students already passionate about addressing the climate issue and eager to ensure their schools are doing their parts to reduce carbon emissions.
Ball State University in Muncie, Indiana is applying the new carbon-reduction methodologies and selling some of the carbon reductions from installing the largest geothermal system at a U.S. college.
At last count, 679 campuses – about 15% of the roughly 4,000 colleges and universities across the United States – are engaged in an aggressive effort to reduce their carbon emissions as part of the ACUPCC. Under this commitment, the institutions agree to complete an emissions inventory, set a target date and interim milestones for achieving climate neutrality and take immediate steps to reduce greenhouse gases, among other things.
"That's what this methodology really is about," Talauskas said. "It's about rewarding those leaders, those innovators that are going beyond business as usual."
If Chevrolet had not financed and promoted the development of the methodology, these progressive institutions would not have the mechanism to access the voluntary carbon market in a trusted way, Koester said.
The Pioneers
Ball State University in Muncie, Indiana and Valencia College in Orlando, Florida are the first to apply these new methodologies with pilot projects. Ball State's pilot involves selling some of the carbon reductions from installing a geothermal system while Valencia will use Chevrolet's funds to finance additional energy efficiency retrofits.
"They have first mover advantage so they're getting a bit of premium," Tulauskas said. "There's some real skin in the game and some real benefits to the universities, to the students and the climate."
Valencia College in Orlando, Fla. is participating in the Chevrolet carbon-reduction initiative as a pilot project. Chevrolet's funds will be used for additional energy efficiency retrofits on campus.
Chevrolet has committed to buying at least 30,000 to 40,000 credits from Ball State, which often had trouble finding the money to engage in clean energy and efficiency initiatives, Koester said. The university is not alone in that regard as other institutions are often forced to draw from tight operations budgets for these types of programs, he said.
"Chevrolet's intervention is changing that game because now there's a way for universities to actually acquire funding to undertake projects that will drive more deeply the carbon reductions laid out in their climate action planning," Koester said. "It's a really significant incentive pool."
"We should be able to achieve carbon neutrality sooner as a result of this kind of incentive," he observed.
Chevrolet is the largest US corporate buyer of voluntary carbon credits, purchasing offsets at above-average prices, according to Forest Trends' Ecosystem Marketplace's 2013 State of the Voluntary Carbon Markets report.
In 2010, the company voluntarily committed to reduce up to eight million metric tons of carbon and pledged about $40 million to the effort. Chevrolet has reduced about 7.6 million tonnes to date and the new offset purchases will complete that commitment.
To develop the new methodology, which has been approved by the VCS, Chevrolet worked with an advisory team led by the Climate Neutral Business Network with support from the Bonneville Environmental Foundation, the U.S. Green Building Council (USBGC) and the Association for the Advancement of Sustainability in Higher Education. The methodology uses a combination of performance benchmark and project method approaches to assess additionality and quantify campus-wide and/or building-specific emission reductions.
"We're excited that there is a durable methodology and we're excited that Chevy's investment actually supports project teams on the ground," said Chris Pyke, vice president, research for the USBGC.
Valencia College
It really provides an integrated solution from the sense that it provides not only the methodology, but also the underlying financing," said David Antonioli, Chief Executive Officer, VCS Association.
Chevrolet hopes other corporates will follow its lead and commit to purchasing carbon credits from higher education institutions under the new methodology, Tulauskas said.
"Once Chevy has stepped out of the picture … we're still positioned as an institution to continue to play in (the voluntary) market," Koester said.