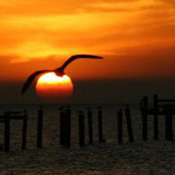 Leading businesses in New Zealand are pushing for the country to develop a platform that will be the hub of carbon trading in Asia Pacific. The Ecosystem Marketplace explores the possibility of a Green Wall Street in time zone one. Much of the activity in the emerging global carbon market centers on world financial hotspots such as London or Chicago. New Zealand is offering a very different market draw in a push to position itself as the carbon trading hub of the Asia Pacific: sunrise. "We have a strategic position being that we're in the first time zone," says Joanna Silver, project manager for New Zealand's proposed carbon exchange, dubbed Time Zone 1 (TZ1). "New Zealand is aiming to carve out a leadership position on climate change and establish itself as the center for carbon trading in the Asia Pacific region. We're developing a locally owned, regionally relevant and globally credible platform that can service transactions from Tokyo to Sydney to San Francisco." A working group of leading New Zealand businesses, led by the New Zealand Exchange (NZX), recently presented a feasibility study to the government arguing that New Zealand is a natural owner of a carbon exchange and could be the world's "Green Wall Street." The idea is to provide a carbon trading platform for Kyoto credits and other regional compliance units, such as those created under a future Australian emissions trading scheme. "The exchange will allow buyers and sellers to settle in a shorter timeframe, and this lowers transaction costs and makes the market more efficient. But the key aim from our point of view is to get price transparency into the marketplace." TZ1 will also provide a trading mechanism for voluntary credits, making it the first exchange in the world aimed at serving both the regulatory and voluntary markets. "Late last year NZX formed the view that an exchange like this is important for New Zealand and Australian businesses," Silver says. "We know the window of opportunity is short and that the key to capturing the liquidity that will make the market successful is to be the first mover."
Exchanges in Global Carbon Markets
Global carbon markets were worth approximately $30 billion in 2006, three times greater than the year before according to The World Bank. Trading was dominated by the European Union Emissions Trading Scheme (EU ETS) in which a little less than half of the transactions were made via exchanges, rather than over the counter or directly between buyer and seller. Exchanges are likely to become more important as the number of buyers and sellers increases and transactions are made across the globe. The working group's report argues that "companies trading credits in New Zealand are paying and will continue to pay a premium driven by a lack of market infrastructure. [TZ1] will provide New Zealand's corporates with lower transaction costs and ease of access to the growing international carbon market." In addition to providing transparent price signals and market access, TZ1 is also expected to bring expertise and new skills into New Zealand's economy and give the country direct links into fast growing Asian markets. "We all share a commitment to New Zealand as a place to do business and a determination to see New Zealand gaining from the clusters of productivity and expertise that will grow around this market," says Rob Fyfe, CEO of Air New Zealand. Air New Zealand is a member of the working group, along with other large companies, including Contact Energy, PricewaterhouseCoopers, ABN AMRO and Goldman Sachs. "New Zealand businesses have been relatively slow to see the realities of a commercial world where carbon credits have an ongoing value and how they can be used not only to change their own emissions profiles but also for their own business benefit," says Mark Weldon, CEO of the NZX. The NZX recognizes this business opportunity and believes its infrastructure and expertise can house a regional exchange. It also has an eye toward regional competition and hopes to get the carbon exchange up and running before other regional players establish themselves in places such as Sydney or Singapore.
Competition from Australia
"Exchanges provide enormous market benefits, but the primary problem until now has been the low number of market participants," says Ken Chapman, general manager of new markets for the Australian Securities Exchange (ASX). "The bottom line is you need critical mass." In Australia, that critical mass has been difficult to capture. According to Chapman, the regulatory market for carbon credits (limited to a greenhouse reduction scheme in the state of New South Wales) and renewable energy certificates has been limited, in part because many companies have managed their emissions liabilities internally rather than through the purchase of offsets on the open market. While it is not normally the role of exchanges to create products, Chapman is pursuing the idea of a carbon warrant, which would enable buyers to hedge against future price fluctuations in the New South Wales market. "We have made it clear that the ASX has the capability to facilitate emission related instruments, and there is nothing stopping anyone from listing emission products whether they are warrants or futures or from trusts," says Chapman. Currently, there are no carbon instruments trading on the ASX. The federal government announced this month that Australia will establish an emissions trading scheme by 2012, suggesting that the critical mass required to spur these ideas into fruition may quickly materialize. In New Zealand, the government has also recently announced its intention to develop an emissions trading scheme aimed at achieving the country's Kyoto target of returning to 1990 emissions during the first commitment period from 2008-2012. "TZ1 provides a policy option," says Silver. "It signals to government that people will be able to purchase carbon at least costs with a transparent price should an emissions trading system be established here in New Zealand."
Premium Voluntary Credits
Rather than just waiting for market drivers from government, TZ1 is also hoping to carve out a competitive position by offering a premium brand of carbon credits for voluntary buyers. This is the segment of the market in which companies and individuals voluntarily purchase offsets to mitigate their greenhouse gas contributions. The voluntary market was worth $100 million in 2006, according to the World Bank and appears to be increasing by an order of magnitude year on year. However, many observers note that market growth is fundamentally hampered by a lack of product consistency and competing standards on what defines a "credit." "In designing TZ1 we recognised that there is a lack of comfort and brand recognition for voluntary products, and we think this is an area where we can add tremendous value," says Silver. 'The goal is to create a fungible, liquid class of voluntary credits that can replace the small, separate pockets of activity that currently define voluntary transactions." Voluntary credits will be branded as TZ1 Platinum credits. These credits can be generated in New Zealand or overseas and must meet eligibility requirements, which are currently being defined. Rather than create a new voluntary standard for TZ1 Platinum, the working group is proposing to identify which of the existing voluntary standards will be acceptable (Read more on voluntary standards). Products that are then certified to these standards are eligible to be traded on the exchange as TZ1 Platinum products.
Just in Time
The working group is now working through details, such as the exchange's ownership structure and technical requirements for broker access, and intends for the exchange to be operational in the beginning of 2008, as the first Kyoto commitment period begins. It is envisioned that TZ1 will be owned by a group of six to eight owners that represent various market interests. This includes NZX as the market operator and brokerage trading houses that need to utilize the exchange in order for it to be successful. Buyers and sellers of carbon credits may also be included in the ownership structure. These players are also helping the working group design the exchange's working infrastructure, such as determining the best interfaces so that brokers can access the exchange globally. Learning from the experience of the EU ETS, TZ1 also aims to incorporate a futures market that allows buyers to hedge their future position in compliance markets but includes a strong risk management counterparty to avoid the sudden price corrections that were seen in Europe. It is evident that as global carbon markets continue to grow, there will be an increasingly important role for exchanges and other trading infrastructure. Whether geographic position in time zone one ends up being a competitive advantage will depend on the exchange's design, the strength of its first mover status and its ability to market itself to major players around the world. Marisa Meizlish is the manager of advisory services at New Forests Pty Limited in Sydney, Australia and regularly contributes to the Ecosystem Marketplace. She can be reached at mmeizlish@nullnewforests.com.au. First published: June 11, 2007 Please see our Reprint Guidelines for details on republishing our articles.