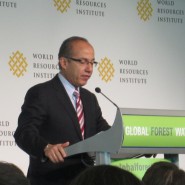 The lack of reliable data on forests has long been a major challenge in the battle against deforestation. But a new tool powered by Google aims to provide real-time information on forest clearing and empower local communities and other stakeholders to fight back.
25 February 2014 | If a tree falls in the forest, not only can you hear it, now you can actually see it in real time, thanks to a new, freely accessible tool called Global Forest Watch.
The world has lost 230 million hectares of tree cover from 2000 to 2012, according to data compiled by the University of Maryland (UM) and Google. In an effort to reverse this "spiral of destruction," a coalition of more than 40 partners – led by the World Resources Institute (WRI) and including UM and Google – have jointly launched Global Forest Watch, a new online forest monitoring and alert system that utilizes the most recent satellite data available.
"This will be a revolution in global forest management," said Felipe Calderí³n, former President of Mexico, at a February 20 launch event at the Newseum in Washington DC.
To continue reading this story for free, please visit the Forest Carbon Portal
Additional resources