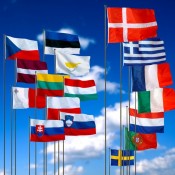 19 January 2011 |  The European Commission suspended trading on the European Union Emission Trading Scheme (EU ETS) at the close of trading today, and will not re-open until next Wednesday at the earliest after cybercriminals were able to hack into several registries and steal credits worth millions of dollars, according to a notice posted on the Commission's web site.
Among the countries whose registries were hacked are Austria, Greece, the Czech Republic, Plland, and Estonia, according to the New York Times, which pegs the value of credits stolen from the Czech registry at €7 million, or $9.4 million.
The Commission is working with national authorities to determine how the breaches took place, and will announce next week when trading will resume.
"This transitional measure is taken in view of recurring security breaches in national registries over the last two months," the notice said. "Following a first such security breach in early 2010, the Commission has worked closely with national authorities responsible for registries to ensure that adequate security measures are put in place in all registries. The incidents over the last weeks have underlined the urgent need for all registries to ensure that these measures are speedily implemented."