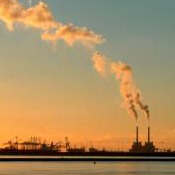 Recent weeks have seen the price of carbon dioxide allowances in the EU Emissions Trading Scheme rocket. In a follow-up to an article on the early collapse of carbon prices, Ecosystem Marketplace asks what's behind the recent bull run — and how much further it has to go. Prices in the EU Emissions Trading Scheme (ETS) have been nothing if not volatile. The last time Ecosystem Marketplace examined the European carbon dioxide (CO2) emissions market — which began operating on 1 January — EU Allowance (EUA) prices had fallen from their historic highs of €13 in early 2004, to €6.35 on 10 January 2005. But by April, EUAs — each of which allows the holder to emit a tonne of CO2 – had broken through the €17 mark. According to prices from Carbon Finance prices had softened slightly to €16.10 by 4 May, but they remain higher than most analysts had predicted ahead of the scheme's launch. So, what has been behind the dramatic rally? How are the companies affected by the scheme – approximately 5,000, in the electricity generation, oil refining, building materials, ferrous metals and pulp and paper sectors – reacting to these high prices? And are carbon prices at these levels expected to persist? As we reported in February, there is no clear consensus among market participants about the exact drivers of EUA prices. However, they agree on certain factors.
The Coal-Gas Connection
The most critical, according to many market analysts, is the relationship between coal and gas prices. Around 75% of the approximately 2.2 billion allowances issued each year in the first phase of the scheme (which runs from January 2005 to December 2007) will go to Europe's power sector. For this reason, the behaviour of power companies will be a key determinant of allowance prices — indeed, much of the trading to date has been carried out by power companies, who not only have the most interest in the scheme, but also have the capacity, in the form of trading desks, to participate in the market. Most power generating capacity in the EU is fueled by either coal or gas, with the latter emitting significantly less CO2 than the former. As such, in an environment where coal is relatively cheap compared to natural gas, power companies will switch generation at the margin from gas to coal, and enter the market to buy allowances to cover their increased emissions. And, because these companies tend to 'optimise' their fuel, generation and emissions positions on a daily or weekly basis, they enter and exit the allowance market regularly, driving short-term prices. "Who's playing in the market? It's mostly the big power generators," says Benedikt von Butler, at brokerage Evolution Markets in London. "They're looking at gas prices, power prices, and weather — they are all fundamental influences on the market." Indeed, there was some speculation earlier in the year that precipitation in Scandinavia was a contributing factor to low allowance prices, as the promise of plentiful hydro-generation capacity would dampen demand for power from Danish coal-fired power plants. Then, a cold snap reversed the trend, with low temperatures increasing demand for power for heating, and therefore CO2 emissions.
Supply Also Important
But the bull run was not simply triggered by increased demand — concerns about supply also played their part. Three of the 'national allocation plans' (NAPs) — which each member state was required to produce, setting out the allowances to be allocated to the installations that fall under their jurisdictions — were slashed by the European Commission. The directive which established the scheme, gave the Commission — the EU's executive arm — the right to demand changes to NAPs which failed to meet certain criteria. The most important of these are that NAPs are in line with countries' Kyoto Protocol targets, and that they do not allocate more allowances to businesses than they will need to meet projected emissions. In the opinion of many in the market, the Commission had, initially, taken a relatively 'hands-off' approach to the NAPs submitted. However, in recent months the Commission has demanded significant cuts from two large NAPs – a 16.5% reduction in the number of allowances that Poland wanted to allocate, and a 9.5% cut in the Czech NAP. Furthermore, it refused to accept a revision to the UK plan that would have seen the government increase its total allocation to 756 million tonnes (Mt) over three years, from 736 Mt. The UK is planning a legal challenge to the Commission decision, and the Polish government is considering such a move.
An Immature Market
But, for all that traders point to 'fundamentals' driving EUA prices, many also argue that the market is simply not sufficiently mature to be amenable to rational analysis. "This market is 50% triggered by sentiment, and 50% by fundamentals," says one emissions trader at a European utility. "It's a new market, so the various fundamentals have yet to prove that they're relevant." It's an argument with which Moe Moe Oo, a partner at Stockholm-based broker GT/SKM, agrees. "Initially, it started with the European Commission being a bit more stringent, with the costs of fuel switching [from gas to coal]. It's not clear to what degree those are real factors, but they created a bull-run. Everyone's on the bid [buy] side, everyone's afraid to give offers, and it creates a snowball effect." At the time of writing, in early May, traders say that activity has slowed, and the market is pausing, as participants look for direction. "It's very hard to say what will reignite the market," says Oo. According to consultants such as Guy Turner, a climate change specialist at Enviros, the recent bull run has yet to translate into panic — or even urgent action — among most of the companies covered by the scheme. "There's still the perception that it's a bubble — and a short-term spike isn't the basis on which to make long-term decisions about investing in emissions reductions. "There's still so much uncertainty about how the system will pan out. It would take six months or a year before companies think that the system isn't going to move. And, with most of market activity accounted for by power sector players and inter-bank dealing, most industrial companies don't have a view yet."
What Goes Up…
And, looking forward, few market observers are predicting that prices will rise — or even maintain current levels. There are numerous other factors that are set to influence price levels, and many of these, analysts say, point towards a greater supply of allowances coming to market. "We believe prices are unsustainable at these levels," says Abyd Karmali, a London-based senior vice president at ICF Consulting, and he gives three reasons: First, ICF Consulting believes that the coal-gas spread is set to contract. The reasoning is that gas prices are likely to become increasingly de-coupled from oil prices, partly as liquefied natural gas infrastructure is developed. Second, Karmali suggests that the market is lacking comprehensive information on the extent of greenhouse gas abatement options available – suggesting that, once companies have had time to examine their operations for savings, greater volumes of reductions are likely to be unearthed than expected. "We predict that the market is going to be short [of allowances] about 60-90 Mt/year in the first phase, out of a total allocation of 2.2 billion tonnes," he says. "It's not clear to me that participants have the full range of information about abatement possibilities outside the power sector — for example, we think that the cement sector has the potential to generate significant reductions." Third, Karmali notes that many participants in the EU ETS do not physically have their allowances, and therefore are unwilling to trade — and particularly sell — them. It's only recently that the NAPs of countries including the UK, Spain, and Poland have been approved — and Italy's remains under consideration by the Commission — so companies in those countries have not even known for certain what their allocation for 2005-07 was to be.
The Registry Factor
And the registries — the electronic systems that each member state is required to set up to track allowance transfers — are not up and running in most countries. As of early May, only Denmark, Finland, Germany, the Netherlands, and Sweden had their registries in place. And until the registries are operational, companies in the scheme can't receive their allowances. "The difficulty that potential suppliers [of allowances] have in accessing the market is having an impact," says Karmali. "Although it's possible to trade allowances forward, in advance of actually receiving them, many companies are unwilling to trade before they've got their allowances in their hands." Von Butler at Evolution Markets gives another reason why the establishment of registries could lead to an increase in supply: credit risk. Eastern Europe is expected to be a major source of allowances, as the accession countries which joined the EU last May are all well on course to meet their Kyoto targets (as a result of economic contraction in the early 1990s which automatically lead to reduced emissions) and were therefore able to be generous in allocating allowances to their companies covered by the EU ETS. However, EUA buyers in Western Europe are reluctant to accept the credit risk involved in trading forward contracts with unknown counterparties in Poland or Slovakia, for example. But, as von Butler argues, once a 'spot' market is up and running, with the simultaneous transfer of cash and allowances, such credit concerns evaporate.
CDM on the Horizon
Finally, market participants note that credits from the Kyoto Protocol's Clean Development Mechanism (CDM) could soon be flowing into the scheme. Credits from CDM projects (projects which reduce or avoid greenhouse gas emissions in developing countries) are valid within the EU ETS. While the CDM has been slow to get off the ground (for an article on this click here ) — only five projects have been registered to begin issuing credits — many participants expect cheaper CDM 'certified emission reductions' (CERs) to enter the EU ETS in growing volumes. Indeed, at the end of February, broker CO2e announced what it claimed to be the largest transaction of CERs to date, with the purchase of 1 million tonnes of credits by Accord, the trading arm of UK utility Centrica, from an unidentified buyer. Certainly, the CDM is far from firing on all cylinders — and some, such as GT/SKM's Oo, warn that the supply of CERs may yet disappoint, given structural hurdles that still need to be cleared. But with CDM credits typically trading at around €5/tonne, any significant supply would be sure to cool the EU ETS market.
Predictions Difficult; especially about the future
Without doubt, the novelty of the market, and the wide range of factors that influence it, makes predicting EUA price movements a difficult game. "It could take until 2007 for all these factors to become clear," says Karmali at ICF. "Once they do, we expect prices to trend down, but we also expect prices to be highly volatile in the EU ETS first phase." Regardless of how long these prices are sustained, the recent bull run has helped push the scheme up the corporate agenda. "There's definitely some surprise in the marketplace among those who thought that the scheme wouldn't be material," says Karmali. "It has created some awareness about the potential volatility of carbon prices, and the value of companies adopting a more proactive approach to managing their compliance." Mark Nicholls, a regular contributor to The Ecosystem Marketplace, is the London-based editor of Environmental Finance magazine, and consulting editor to its sister publication, Carbon Finance.