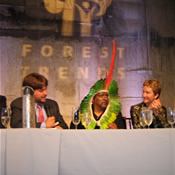 Former US Vice President Al Gore and a diverse group of conservationists, indigenous people, financiers, policy-makers, and civil servants met in Washington, DC, at the end of April to commemorate the first decade of Forest Trends, which was launched in 1999 to help preserve the world's ecosystems by fostering an understanding of nature's true value to our global economy.
22 May 2009 | Ken Newcombe and Randy Hayes first met in the 1990s – across a picket line. Newcombe was working for the World Bank, and Hayes was running the Rainforest Action Network – an organization he'd founded in part to combat the bank's forest-unfriendly development policies.
Michael Jenkins knew them both.
A forestry specialist serving the MacArthur Foundation and the World Bank, it was his job was to distribute woefully inadequate funds to worthy forest-protection projects across Latin America, Asia, and Africa.
All three men knew that destruction of the world's tropical rainforests generated a massive amount of the world's greenhouse gas emissions – a figure later pegged at 20% by the United Nations Framework Convention on Climate Change (UNFCCC). They also knew that donations alone wouldn't save the rainforests as long as our modern economy believed the trees were worth more dead than alive.
So Jenkins – with the help of Newcombe, Hayes, and others – founded Forest Trends, the non-governmental organization that today publishes Ecosystem Marketplace and has spawned the Katoomba Group, the Business and Biodiversity Offsets Program (BBOP), SpeciesBanking.com, ForestCarbonPortal.com, the Chesapeake Fund, and numerous "incubator" projects around the world designed to quantify the economic value of rainforests and other living ecosystems by identifying the ecosystem services they provide and proposing means of paying for them.
"Forest Trends has become widely-regarded as the most comprehensive advocate and resource for anyone who wants to understand and help to further develop markets for ecosystem services," said former US Vice President Al Gore at the organization's tenth anniversary in April.
The First Katoomba Meeting
The group was formed in 1999 to foster the development of a global network of diverse individuals and organizations united only in their shared belief that living ecosystems have more value alive than dead. Today, its board of directors reflects both that diversity and that belief – ranging from people like Hayes and Greenpeace Russia's Sergey Tsyplenkov to Olof Johansson of Swedish forestry group Sveaskog to Yusuf Ole Petenya of Kenya's Shompole Community Trust.
From the start, Forest Trends has hosted Katoomba Meetings to foster the network's development. Bettina von Hagen, now CEO of Ecotrust Forest Management Inc., recalled the first such meeting – held in Katoomba, Australia, in April, 2000.
"That small conversation among 30 people has since grown into an organization with hundreds of partners around the world and 14 meetings held on five continents," she said, pointing out that the most recent meeting raised the awareness of carbon finance across Brazil and helped to unite advocates around a common goal.
"The accomplishments of Forest Trends can't be measured in terms of the projects it has launched or the meetings it has held, but in terms of the minds it has opened," she said.
What We Know; Where We're Going
A pre-dinner panel chaired by Ecosystem Marketplace founder Ricardo Bayon, who now chairs Eko Asset Management Partners focused on three questions: "What have we learned; what do we know; and where do we need to go in the next ten years?"
One of the attendees recorded the panel, and it's worth watching (even if the sound quality is a bit off at times):
Click the video to start playback
Taking Stock
Patti Ruiz Corzo, Founding Director of the Sierra Gorda Biosphere Reserve in Mexico, and Chief Tashka Yawanawa, of Brazil's Yawanawa People each reported that rural poor in their regions had come to understand the economics of earning a living as providers of ecosystem services by preserving the rainforest instead of destroying it, but they also said that policy-makers by and large failed to understand the importance of forestry stewardship – and of paying people to maintain the forests.
"In the past, you could leave the forest by itself," said Corzo. "But nowadays, with warming and other changes, we have a very fragile forest, and it needs to be managed."
Yawanawa said that ecosystem markets could, if properly implemented, offer a chance for the developed world to make amends for past abuse – and it also had something to gain from the Yawanawa and other indigenous groups.
Both called on more support for schemes that offer carbon credits for reducing emissions from deforestation and forest degradation (REDD).
The Need to Scale up
David Brand, Managing Director of New Forests, commended Forest Trends for its efforts, but said the $50 trillion-per-year global economy still had not acknowledged its own dependence on nature, and thus had a long way to go before it would truly recognize nature's value – let alone pay for it.
"Fundamentally, we have to start pricing ecosystem services and integrating them into the supply chain so that consumption is linked to conservation and protection," he said. "We have to put a line in the sand and say, 'No more loss; no more converting tropical forests into palm oil; no more irrigating wheat and rice crops in Australia when there's no water around.'"
And that line, he said, must be written by governments – a sentiment echoed by everyone on the panel.
Markets Aren't the Only Answer
Hayes, who is now the Policy Officer on Climate and Energy for the World Future Council, broadly divided the environmental world into two schools: those advocating what he called the 'Chief Seattle' worldview "that says land is not for sale and it's unholy to commoditize nature" and those of the 'Chicago School of Economics' worldview. He said that, for now, the government-supported market-driven model seemed to be the one most capable of delivering rapid solutions, but warned against becoming too dogmatically attached to it.
"I'd say to people that have this inclination for market-based solutions: seek out the critics and hear them out, because they are not without some semblance of reason," he said. "We can't afford to have slow solutions to fast problems, so you have to ask those of the Chief Seattle School: what's their set of solutions."
He implied that both sides may find common ground in their drive to end what he calls 'cheater economics':
"The more you can externalize socially or ecologically, the more profitable you are likely to be in the short term," he said. "Wal-Mart is a better externalization machine than competitors, and anyone who cheats – who dumps their pollution into other peoples' rivers – will succeed in the short term."
The Convergence
In a separate discussion not caught on tape, Johnathan Lash, president of the World Resources Institute, said we are witnessing the emergence of a new economy that combines the best of the private and public sectors.
"Society doesn't last long if it doesn't harvest the capacity and power of the private sector in solving problems," he said. "But we can't create markets for public goods without policy, and the renewed willingness to even speak the word 'regulation' is important if we are to move policy ahead in order to create the markets that Forest Trends has done so much to define."
Sally Collins, who runs the US Department of Agriculture's Office of Ecosystem Services and Markets, encapsulated the night by managing to quote American conservationist Aldo Leopold and British Prime Minister Gordon Brown in the same breath – a feat you'll have to watch the video to appreciate.


Please see our Reprint Guidelines for details on republishing our articles.
Additional resources