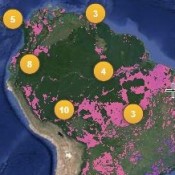 There are plenty of satellites keeping electronic eyes on forests, but the high-resolution ones don't fly that often and the ones that fly often can't see so good. But a new platform combines sophisticated algorithms and high-speed computing with the power of crowdsourcing to provide near real-time monitoring of all the world's forests.
20 February 2014 | Rebecca Moore joined Google after using the company's Google Earth program to track the destruction of redwoods in her Santa Cruz Mountain community.
"I thought, 'Wow, this could be a great tool for monitoring forests around the world,'" she told us in 2009 – right after she'd begun working with the Surui Indigenous People of Brazil as they launched what has since become the world's first indigenous-led project to use carbon finance to save endangered rainforest.
A computer scientist by profession and an environmentalist by passion, she launched Google Earth Outreach in part to foster the creation of a tool for monitoring global forests just as she had done locally. That, however, proved easier to imagine than to implement – mostly because the satellites scanning the forests use different degrees of resolution based on different technology and fly over the forests at different times, but also because it wasn't always clear what exactly those images were revealing.
Five years and reams of data later, the World Resources Institute (WRI) and Google Earth Outreach this week launched Global Forest Watch, which is a powerful yet incredibly simple tool that lets anyone in the world follow deforestation using the most recent satellite data available. Building on algorithms that University of Maryland Professor Matthew Hansen described in his 2013 paper High-Resolution Global Maps of 21st-Century Forest Cover Change and drawing on expertise and funding from more than 40 organizations, the platform combines data gathered annually at a resolution of 30 meters with data gathered monthly at a resolution of 500 meters and harvests the power of cloud computing provided by Google to interpret the data and generate trustworthy images of forestland around the world. When forest loss alerts are detected, a network of partners and citizens around the world can mobilize to take action.
Watch The Demo
The tool also provides layers showing boundaries of protected areas worldwide; logging, mining, and changes in land use.
Forests in the Amazon: New, Old, and Lost
This screen shot from the Amazon lets you see where forests have lost, gained, or preserved.
Global Forest Watch can support other users like indigenous communities, who can upload alerts and photos when encroachment occurs on their lands; and NGOs that can identify deforestation hotspots, mobilize action, and collect evidence to hold governments and companies accountable. At the same time, many governments like Indonesia and the Democratic Republic of Congo, welcome Global Forest Watch because it can help them design smarter policies, enforce forest laws, detect illegal forest clearing, manage forests more sustainably, and achieve conservation and climate goals.
"Indonesia is committed to reduce its greenhouse gas emissions by 26 percent, or 41 percent with international support, which reflect national and international commitments to combat climate change. How Indonesia meets that commitment is largely defined by how we manage our forests," said Heru Prasetyo, Government Ministerial level Head of the REDD+ Agency, Indonesia. "The ability to better monitor our forests and have up-to-date information to make decisions are critical. I commend the Global Forest Watch initiative, will continue to support it, and expect that it will be an effective tool for the world and each nation as we leave neglect and ignorance in the past."
In addition to WRI and Google, the parnters include Esri, University of Maryland, United Nations Environment Programme (UNEP), Imazon, Center for Global Development, Observatoire Satellital des Forêts d'Afrique Centrale (OSFAC), Global Forest Watch Canada, ScanEx, Transparent World, the Jane Goodall Institute, and Vizzuality. Major companies have also provided early input, including Unilever and Nestle, and the wider Tropical Forest Alliance 2020 Partnership. Core funders include the Norwegian Climate and Forests Initiative, U.S. Agency for International Development (USAID), Global Environment Facility (GEF), U.K. Department for International Development (DFID), and the Tilia Fund.
Additional resources