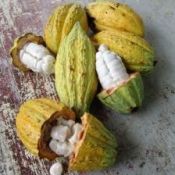 Cocoa is one of Ghana's most important exports, but current farming techniques wreak havoc on both soil and surrounding forests.  This is not only unsustainable for cocoa, but also contributes to global warming and biodiversity loss. EM examines efforts to promote sustainable cocoa farming by tapping into the global carbon markets.
About this Series
The Fifteenth Katoomba Meeting begins on October 6 in Accra Ghana, and runs through October 9 in two phases: phase one runs for two days and is open to anyone who registers and is designed to bring the debate over the role that payments for ecosystem services can play in promoting sustainable development to a larger audience.  Phase two also runs for two days (October 8 and 9), but is an intensive, invitation-only workshop for practitioners, policy-makers, and stakeholders.
 This series is designed to shed light on issues relevant to these meetings and that part of the world.
Part One, Soil Carbon in Africa, brings you up to date on ways that African farmers can earn income by adopting agricultural techniques that capture carbon in the soil.
Part Two, CDM in Africa, examines the role that local financial systems play in attracting CDM investment.
Part Three, Carbon and Cocoa, examines the interrelationship between cocoa farming, deforestation, and carbon sequestration.
Part Four, Gabon's Mbé Watershed, examines a pioneering watershed protection scheme being implemented in Gabon.
Part Five, Ghana Readies for REDD, introduces you to the various players working to forge Ghana's payments for ecosystem services regime.
Other stories will be added over the course of the month.