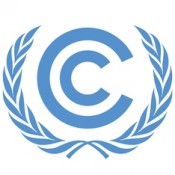 As our Ecosystem Marketplace team prepares to join the (albeit downsized) mass of avid climate talk followers to Doha, we set out to find the "must attend" events – and bring them to you. Take a look below for our hand-picked list of promising events during COP 18, including where and when you can find the Forest Trends team in action!
26 November 2012 | Doha | Qatar | The 18th Conference of the Parties (COP 18) to the United Nations Framework Convention on Climate Change (UNFCCC) begins Monday in Doha, Qatar. Here is a look at some of the side events we will be participating in and covering.
FIRST UP: ECOSYSTEM MARKETPLACE EVENTS
IETA side events at COP 18, Nov. 29th:  
Ecosystem Marketplace will participate in the
panel
Climate Leadership and Future Trends for Voluntary Carbon Markets
, where Carbon Programs manager Molly Peters-Stanley will moderate the session, joined by panelists from the Gold Standard, American Carbon Registry, The CarbonNeutral Company and ClimateCare. The event is one of many taking place during the International Emissions Trading Association's side event program. It will take place at Doha's Diplomatic Club from 10:45am-12pm, when panelists will evaluate the progress voluntary markets have undergone in the last twelve months and discuss future global trends for voluntary offsetting demand.      
To start off, we'll begin at an official UNFCCC side event. This quality group of organizations will bring together experts to discuss how forest protection can move forward under a new climate agreement, including what's still left do to for REDD.  
This event will present examples of how the private sector is working with governments and civil society, using best-practices, including jurisdictional VCS, to invest in and scale up REDD+ for regional, national and global impact.  
In this session, IIED will focus on the challenges surrounding the equitable distribution of costs and benefits and how REDD+ governance will improve the livelihoods of forest-dependent communities. If you're a national-level REDD+ negotiator or NGO representative with a pilot REDD+ project, this one might be of particular interest to you!
This even will present the findings of IISD and ASB's 3-year REDD+ capacity-building initiative using the REDD+ supply chain as an analytical framework. It will draw together government and private sector stakeholders to provide commentary on what is needed to further scale-up private sector investment in REDD+.
This open discussion with IETA's President and CEO Dirk Forrister and officials from the World Bank will discuss the B-PMR and how IETA members can engage. It will also be an opportunity to learn more about activities in the 16 PMR implementing countries from the World Bank's PMR Secretariat.  
The WCS promises to be one of the most prominent annual events, bringing in leaders from government, finance and business to speed up solutions to climate change.  
This event has been a favorite among forest carbon followers each year! This year's theme "Living Landscapes" aims at recognizing the links between forestry and agriculture. The event will inform participants on possible steps forward on REDD+, social and environmental benefits, long-term financing and many other topics of interest.  
Part two of the "Living Landscapes" banner hopes to provide an opportunity for the natural resource and ag community to exchange solutions for climate change adaptation and mitigation.  
Rainforest Alliance will contribute their experiences with the forest certification process and thoughts on connections with REDD+ as the workshop explores land-use change drivers.