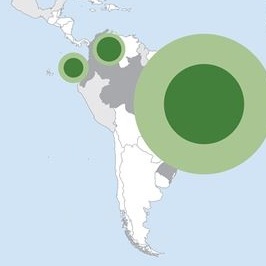 3 April 2014 | Ecosystem Marketplace's State of the Forest Carbon Markets 2013 report found that 80% of the world's REDD (Reduced greenhouse gas Emissions from Deforestation and forest Degradation) credits originated in Latin America during 2012, and that Brazil leads the region in funding commitments to REDD.
Beyond that, however, the funding picture has always been a bit nebulous. Until now
Forest Trends' REDDX Initiative has been following REDD+ finance in 14 countries – six of them Latin American. It finds that, out of $111,334,638 pledged to those three Latin American countries, $54,052,851 – or nearly half – has been delivered to date.
"It surprised everyone," says Marta Echavarria of Ecuador's EcoDecision, an organization specializing in ecosystem services markets.
For the full story, please visit the Forest Carbon Portal.
Additional resources