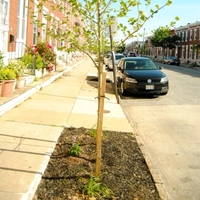 Urban forestry helps keep US cities green and their air clean. For this, urban foresters can earn carbon offsets that reflect their pro-climate contributions. Though these offsets could be sold to voluntary buyers or even into California's carbon market, urban forestry offset projects have been underutilized due to high costs and technicalities. The Climate Action Reserve is hoping to change that.  
27 March 2014 | Urban trees play a host of important roles. They're air conditioners. They're crime-stoppers. They remove tens of metric tons of particulate matter from cities. And they're carbon sequesters: The US Forest Service estimates that urban trees in the United States sequester 25.6 million tonnes of carbon annually, at an estimated value of $2 billion – based on government projections of the social cost of carbon.
But this value isn't always accounted for in public and private planning activities as cities often struggle to build and maintain urban canopy because of the costs of planting and caring for trees. The Climate Action Reserve (CAR) – an organization that develops methods (or "protocols") to account for carbon mitigation – is trying to change that by making their urban forestry protocol more user-friendly.
CAR's protocol guides the quantification of greenhouse gas (GHG) reductions from urban tree planting and maintenance activities by municipalities, educational institutions and utilities, and has been available in various forms since 2008. In October 2011, the California Air Resources Board (ARB) approved urban forestry as one of four offset project types eligible to produce carbon offsets for its cap-and-trade program.
But only one project – to plant 1,000 trees by the City of Santa Monica – has ever made any significant progress, and no compliance-eligible urban forestry offsets have been granted by the ARB. CAR officials have received consistent feedback that the current version is too challenging to facilitate project development of any significance.
"That's problematic—we want our protocols to be used," John Nickerson, CAR's Director of Forestry, said Wednesday during the Navigating the American Carbon World 2014 conference in San Francisco.
So, with support from the California Department of Forestry and Fire Prevention (CalFire) and the US Forest Service, CAR embarked on a review and proposed update of the urban forest protocol that would address some of these issues by:
Expanding the scope of eligible urban forest projects beyond "street trees" to include trees located in parks, private lots, open spaces and other areas not currently eligible.
Eliminating a costly requirement to inventory every tree (that's right, every tree) within and outside the project area.
Making urban forest management projects commit to increasing existing inventories relative to baseline levels eligible to generate carbon offsets.Currently, only urban tree planting activities are eligible under the protocol.
And there are many more issues the protocol addresses including covering for unavoidable reversals and establishing environmental and social co-benefits.
Read about the specifics of 'The Makeover' on the Forest Carbon Portal.
On a separate note, it's last call to respond to our survey informing the State of the Voluntary Carbon Markets report.
Returning survey-goes can login HERE (http://survey.ecosystemmarketplace.com/carbon2014/) to report on 2013 offset transactions and/or project developments.
Newbies can create a login HERE (http://survey.ecosystemmarketplace.com/carbon2014/users/users/add)
Contact Allie at agoldstein@nullecosystemmarketplace.com with any questions about the survey. We look forward to hearing from you!