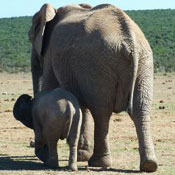 Aesthetic beauty has long been touted as an ecosystem service. But what is it and how do you capture its value? Ryan Booth of Forest Trends tells the Ecosystem Marketplace why he thinks one Maasai community in Kenya might have some answers to share. When Microsoft co-founders Bill Gates and Paul Allen visited the Southern Rift Valley of Kenya last year, the billionaires created a stir by staying at a community owned and operated eco-lodge. The local Maasai community of Shompole manages this project in partnership with a private investor, but there is no need to picture the world's richest man roughing it at this particular venue. When Gates and Allen arrived, they were greeted by the community and were treated to roasted goat and beef. Each of their rooms at the eco-lodge contained a private pool, oversized beds and a spectacular view of the Rift Valley, with giraffe and wildebeest grazing in the distance. While there are many lodges throughout Africa, the Shompole eco-lodge is one of the few high-end hotels with direct local ownership. According to ranch leader Yusuf Ole Patenya, by having a stake in the eco-lodge the community receives, "direct cash from lodge clients (of up to) $5,000 a month. These funds are spent on teachers salaries, bursary awards for poor students, water provisions, health services and other community needs." Moreover, increased tourism has created a market for local wares. Because of the venture's success, spin-off initiatives, such as a woman's beadwork project, generate income for individual households. The Shompole understand, however, that land degradation and declining wildlife populations, a growing problem in Kenya, represent a threat not only to the African countryside, but to their ecotourism business as well. To counteract this threat, the community has taken proactive measures to maintain the pristine beauty of their land in order to increase the attractiveness of their eco-lodge and guarantee its long-term sustainability.
Southern Rift Valley
Located on the boarder of Tanzania, Kenya's Southern Rift Valley is endowed with rich biodiversity. Lion, buffalo, elephant, zebra and giraffe inhabit the grass plains, acacia woodlands, volcanic hills, and soda lakes of the region's beautiful terrain. For several thousand years, wildlife coexisted with the local Maasai community livestock ranches. Traditionally, each group ranch considered its land communal, as pastoralists herded livestock throughout their community's land to cope with drought, maximize feeding efficiency and avoid degradation. Recently, however, biodiversity in the Southern Rift Valley has become increasingly threatened due to land use change. Land subdivision, unplanned urban sprawl and the establishment of permanent settlements often result in tree clearing and degradation, which disrupts the ecosystem and fragments once open rangeland. Moreover, human population growth has decreased the available land for wildlife, causing increased competition between livestock and wild species for food, water and survival. These factors, along with the area's poverty, are highly detrimental to the local ecosystem and have threatened the sustainability of the Maasai grazing practices.
A New Partnership
Shompole, a community of 3,500, owns over 56,000 hectares of land located 120 kilometers south of Nairobi. Ole Patenya indicated that the community decided to pursue construction of an eco-lodge in the 1990s because it represented, "the best sustainable way to make money. The atmosphere was very conducive – plenty of wildlife, a beautiful and willing community, donors, strategic partners and spacious land." To ensure the success of an eco-lodge, the Shompole recognized they must protect the local wildlife and maintain the landscape's scenic beauty. A 14,000-hectare conservancy that restricted livestock grazing was created with the help of a $200,000 grant from the European Union's Biodiversity Conservation Program. Specifically, the grant funded infrastructure, staff training and the purchase of motorized patrol vehicles. The community then teamed up with Art of Ventures, a private investor with previous experience in the tourism industry, and the African Conservation Centre, a local NGO that offered technical assistance, to build the lodge. At the project's inception, Shompole owned 30% of the lodge, corresponding to its initial investment of land, natural resources and construction materials. Art of Ventures controlled the remaining 70% from its cash investment, marketing skills and knowledge from previous eco-lodge projects, while the African Conservation Centre supplied management and financial support and consulted the community with regards to conservation practices.
Up and Running
Construction began in 2000, and nearly all of the building materials, such as fig wood timber and reeds, were collected from the Shompole land. Built on the Kenyan hillside, the resulting lodge blends the natural African landscape with both contemporary and traditional architecture. All rooms open on one side to offer an unrestricted panoramic view of the Southern Rift Valley, while water collects in private pools for guests to enjoy. Large beds, quartz stone, thatch roofs and flowing water create an elegant and relaxing atmosphere in the African bush. The lodge welcomed its first guests in 2001, offering them guided walks and safaris to observe the local game as well as opportunities to interact with community members and purchase wares at the local Shompole market. More adventurous guests rent mountain bikes or canoes to explore the local countryside at their leisure. The lodge initially employed 400 community members during its construction and continues to staff over 40 locals. Another 20 Shompole monitor the conservatory as game managers, while two community members sit on the lodge's Board of Directors. By generating a steady cash flow, the eco-lodge has helped the community fund educational, health and conservation initiatives. The Shompole project has also proven to be commercially viable. The lodge boasts an average occupancy rate of 65%, considerably higher than many of its competitors, and there are plans for future expansion. Additionally, the Shompole look forward to becoming majority owners of the lodge in the coming years. Their contract with Art of Ventures stipulates that the community can purchase shares to increase its ownership up to 80% by 2010, and the Shompole are currently searching for potential donors to help them acquire these shares. While the community has reaped tremendous benefits from the eco-lodge, the Shompole pastoralists face new challenges because of the project's success. Wildlife populations in the conservation zone have tripled since implementation, and species diversity has increased as well. Competition for water and food between wild herbivores and livestock has thus intensified, as has the prevalence of carnivores that prey upon the community's herds. Nevertheless, the benefits from the eco-lodge have far outweighed the newfound threats to the livestock.
Spreading the Word
In 2004, the overwhelming success of the Shompole eco-lodge inspired 12 neighboring Maasai communities to join Shompole in creating the South Rift Association of Land Owners (SORALO). This organization aims to coordinate the sustainable use of land and resources in the Southern Rift Valley and foster tourism industry in the region to alleviate poverty. Historically, each Maasai community ranch managed its own land on an ad hoc basis. SORALO, therefore, represents an unprecedented step towards creating a regional management plan to address ecological degradation and economic concerns. By reducing land fragmentation and educating community members about livelihood diversification, SORALO expects to increase wildlife populations and enhance the scenic beauty of its 800,000 hectares of land. The creation of a tourism circuit through SORALO lands and the nearby Amboseli National Park and Maasai Mara National Reserve is underway and will finance the conservation efforts, as well as economic, cultural and social aspects of the ranch communities. In a nutshell, the Shompole model represents the synergy of seemingly disparate elements. First, the eco-lodge has linked a small Maasai group ranch to the international community and world-famous individuals such as Bill Gates. Secondly, and perhaps more importantly, the project has shown that wildlife is not simply a threat to livestock, but a valuable resource that can potentially be utilized to generate income for a community. The Shompole recognized that their resources – scenic beauty and rich wildlife – are conducive to tourism, and they capitalized on these resources by building an eco-lodge. Indeed, several dozen communities have visited Shompole to discover how similar projects can be duplicated on their own lands. According to Ole Patenya, the best advice a similar group can follow is to recognize the potential of their own lands: "Many communities have no idea how much they are worth in terms of resources. My example suggests otherwise – re-examine yourself and you'll realize there are plenty of resources in your midst. Give it a trial!" Ryan Booth recently finished an internship at Forest Trends. This fall, he will begin a Ph.D. program in economics at New York University. First published: August 17, 2006 Please see our Reprint Guidelines for details on republishing our articles.