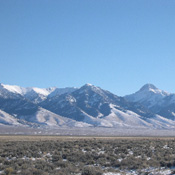 Beartooth Capital is pioneering a new relationship between private equity and land conservation in the Western United States. The Ecosystem Marketplace finds out why. In December 2006 Beartooth Capital, a small private equity group based in Montana, closed a deal in northeastern Idaho that few real estate investors could imagine, let alone execute. Motivated by the potential for land conservation as much as a return on their investment, Beartooth Capital purchased a 3,200-acre ranch in the Little Lost River Valley last month. Split in two by a third property and lacking road access, the parcel probably looked unattractive to most traditional developers. Beartooth, however, saw something in the land that others did not. Between the two sections of the 3,200-acre ranch lay a 625-acre property owned by the Idaho Nature Conservancy. This missing puzzle piece has road access, so Beartooth hopes to buy it in exchange for permanently protecting most of the larger ranch from development. On one level, it's a simple real estate play: take land without road access, merge it with a parcel that has road access, and resell the entire property for more money. Yet smart real estate moves are just one piece of Beartooth's philosophy. Robert Keith and Carl Palmer, who run the firm, insist that the success of their business depends on making sure the most ecologically sensitive pieces of the entire 4,000 acres are preserved; that the wetlands, migration corridors, and vulnerable landscapes get the permanent protection they need. "With this deal we're multiplying traditional conservation power with for-profit investment capital," says Keith. "At the end of the day, The Idaho Nature Conservancy will have protected 4,000 acres of ecologically important land rather than the 625 acres they started with, and our investors will have earned a nice return in the process. It's a win for everyone."
Joining Two Worlds
After graduating from Stanford University's Graduate School of Business in 2003, Keith and Palmer sought to bring together the two usually divergent worlds of private capital and land conservation. Immediately after graduating from Stanford University business school, Palmer started Greenbridges, a real estate investment firm designed to deliver investment returns with conservation benefits. Soon Keith left a Silicon Valley venture capital firm to join his former classmate. "Greenbridges got off to a great start," says Palmer, "but it became apparent that we didn't quite have the right structure there to really align conservation goals and financial outcomes for the long term." Yet they both remained passionate about the idea. So in the summer of 2005 both Keith and Palmer left Greenbridges to form Beartooth Capital. The business, named after the Beartooth Mountain range in northwestern Wyoming and southern Montana, is a private equity firm where investors commit capital to a fund in advance of any particular land purchases. Keith and Palmer can find and negotiate for the right property knowing that they have the backing of underlying capital. This is a big change from Greenbridges, where they found properties first and then went to investors for funding. Foremost Keith and Palmer are real estate investors. The quality of the property they are considering purchasing comes first, as does the price. They scout for properties in and around protected land like national parks and state recreation areas. Beartooth Capital forms relationships with environmental non-profits, ranch brokers, and an assortment of ranch managers to show them potential deals. Their goal is to buy land, improve its ecological value while preserving the parcel's most important aspects, and then resell the spruced-up property at a profit. With few employees Beartooth is too small to chase every property in the West. Consequently, they've chosen to focus on the Greater Yellowstone Ecosystem (western Montana, northwestern Wyoming, and northeastern Idaho) and a few markets in California. "You can't be a knowledgeable investor if you're open to any opportunity under the sun," says Palmer. "Our goal is to really know these markets well and know the conservation communities in a given area. We could be going after farmland, or forestry, or a whole series of properties. We focus on ranches because we have direct experience in these landscapes and there is a limited supply and high demand [so] the financial and the ecological goals align very well."
Hot Market, Unique Pitch
According to the Department of Agriculture, urban sprawl will consume 95 million acres of farmland in the next 20 years and 75 million more acres of cropland, rangeland, pasture and forest are threatened. As wealthy baby-boomers retire, more and more of them are looking for second homes. A small segment of these people are purchasing ranches for fishing, hunting, family enjoyment or other purposes, with many owners actually continuing to run cattle on them. Bozeman in Montana, Jackson in Wyoming, and Sun Valley in Idaho are all desirable ranch markets for not only their local amenities, but nearby national parks and forests. Over the years demand has increased and so has the pressure to sell or break the land into parcels. By not splitting up the land, permanently preserving its best attributes and undertaking a variety of types of conservation transactions, Beartooth Capital creates marketable value. "When Carl and I speak with potential investors we describe both the expected financial returns and conservation elements of each property," says Keith. "We point to our past deals and describe possible future investments. We also talk about how, being a fund of ranches, we are a unique asset class with strong diversification benefits for a portfolio and an attractive risk-reward profile." But Keith stresses that their conservation piece is just as important in their pitch to investors. "We explain to potential investors the ecological importance of a particular property and how many of these areas are getting destroyed by poorly planned development and increasing population pressures," says Keith. "The result is that the price of land is increasing faster than donations to conservation organizations can keep pace. We provide the opportunity to accomplish conservation which benefits from rising land prices, rather than being impeded by it." The idea that the bullish real estate market environmentalists have bemoaned for the last two decades in the American West could actually be harnessed for land conservation is a powerful one, but it is complicated too. "Each of our investments has different components that create value," says Keith. "We look at all sorts of conservation transactions including outright land sales to conservation entities, land sales to conservation buyers, land swaps with conservation groups, conservation easement sales and much more. While we try to engage in a couple of conservation transactions to create value on each deal, we nearly always engage in habitat restoration [because it] enhances the breadth and depth of wildlife on a property which adds significant value to the resale of the property." Developing credible relationships with conservation nonprofits provides Beartooth Capital with an added benefit. "On occasion they will bring us a property—they may or may not own it—or may just bring it to our attention," says Keith. "They might say, 'You guys might be interested in this' and then we get the chance to work on this idea and they get the comfort of knowing that we'll do the right thing if we do buy it."
Clock's Ticking
Beartooth Capital will be closing its second deal at the end of January 2007. "Carl and Robert are very different from other developers because of the environmental values they've incorporated into their work and the numbers of groups they've reached out to," says Mike Clark, a senior director with Trout Unlimited who informally advises Beartooth on conservation issues. "I think that they are going to have competition down the road when others realize that what they are doing is successful. I just hope they are going to be successful raising the capital they need, simply because we have limited time to save these beautiful places." Jason Amundsen is a Minneapolis-area freelancer. He can be reached via his website at www.twowordy.com. First posted: January 16, 2007 Please see our Reprint Guidelines for details on republishing our articles.