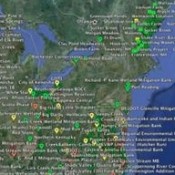 20 March 2013 | Wetland Mitigation Banking is one of the great environmental successes of the past forty years. A $3 billion industry, it is credited with restoring and protecting 960,000 acres of wetlands, streams, and associated upland habitat across the United States. The National Research Council and Environmental Law Institute both credit it as the most successful type of compensatory mitigation for wetland and stream impacts, while the US Army Corps of Engineers (Corps) and US Environmental Protection Agency have identified it as the the federally preferred form of compensatory mitigation.
Many states, however, remain "mitigation banking deserts" – and not always with good reason. States that have few wetlands and/or little development may naturally have fewer opportunities to build mitigation banks.
But what about New York? The state has abundant streams and wetlands and one of the highest per-capita state gross domestic products, but there are currently just three mitigation banks within the entire state. In contrast, leading states such as California, Texas, Maine, and Virginia each have more than 50 wetland and stream banks. Ohio and New Jersey, which both fall within Corps regulatory districts that also cover New York, have over three times as many mitigation banks as New York. The barriers to mitigation banking, therefore, do not appear to lie within the regional or district levels, but rather fall within New York's borders.
his raises a number of questions: What is keeping mitigation banks out of New York? What can be done to remove these barriers? And is it worth doing?
US Mitigation Banks as of January 2012