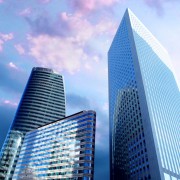 A collaboration between the University of Cambridge and an European initiative working to curb climate change has produced a summary of the IPCC's report that came out last week and confirmed man's influence on the changing climate. Directed at the business community, the summary is perhaps more easily readable than the report while remaining scientifically accurate.
4 October 2013 | "Continued emissions of greenhouse gases will cause further warming and changes in all components of the climate system," said Thomas Stocker of the IPCC, when releasing the first installment of the panel's Fifth Assessment Report on Friday, 27 September in Stockholm.
The IPCC's report Climate Change 2013: The Physical Science Basis is the most detailed assessment of climate science ever. Over 2,000 pages of scientific consensus make clear that climate change is real, that it is happening now and that human influence on the changing climate is more certain than ever.
The impacts of climate change will present growing challenges for the governments of the world – and unforeseen risks for the global business community. Rising temperatures, changes in rainfall patterns, rising sea levels, disappearing glaciers and acidifying seawater will all have direct impacts on many industrial sectors.
A Document for Business
To help the business community better understand the implications of climate change for their business model, the European Climate Foundation, which promotes energy and climate policy that reduces carbon emissions in Europe, have produced a digestible summary of the IPCC report.
Published by the University of Cambridge's Judge Business School and the Programme for Sustainability Leadership and supported by the ECF, Climate Change: Actions, Trends and Implications for Business distils the key findings of the report into an easily readable, but non-the-less scientifically accurate document.
Encouraging industry to act on 'the challenge of the century'
The ECF have circulated this document across a variety of industrial sectors, but need more help to disseminate it further. By spreading this document as far and wide as possible, they hope to create a common understanding of the climate threat among the business community, thus encouraging industry to act on what world leaders refer to as the most significant challenge of the 21st century.
Share this open-source publication with business networks, post them online or use them for presentations and at events.
The full guide and infographic are available for download here.