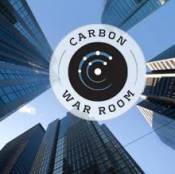 Billionaire entrepreneurs like Ted Turner and Sir Richard Branson probably know a winning business prospect when they see one. For such corporate heavyweights to take part in the Carbon War Room's first ever Gigaton Awards for low-carbon leadership suggests that private sector climate action is still going strong. It's not something that Best in Class winner 3M takes lightly, even after shedding more than 77 percent of its 1990 emissions.
December 4, 2010 | Cancun, Mexico | In the midst of the climate debate's tug-of-war between regulators and the private sector, "us versus them" took on a very different meaning at the World Climate Summit's first ever Gigaton Awards, held in tandem with the Sixteenth Conference of the Parties to the UN Framework Convention on Climate Change (COP16).
At the event, private sector climate leaders celebrated their weighty emissions reductions and environmental leadership in spite of negotiators' and some governments' inability to produce meaningful international and domestic commitments.
Among the award presenters was billionaire Sir Richard Branson, founder of the Virgin Group, who contrasted the spirit of the event with the world's low expectations for outcomes in Cancun when he said, "This night is about raising expectations"
"I think that if governments are not going to be able to get on top of the problem, then it's up to business." Branson is a co-founder of the Carbon War Room, which hosted the evening ceremony to recognize climate conscious Global 1000 companies across six sectors of business: Consumer Discretionary, Consumer Staples, Industrials, Telecommunications, Energy, and Utilities.
Branson wasn't the event's only headliner to contrast private sector accomplishments against political inertia. CNN and United Nations Foundation founder Ted Turner seized the podium as the evening's honoree to put it bluntly: "We're right, they're wrong."
Talking to the business community in attendance, he continued, "You know you're right. You've got more motivation than somebody who's wrong and knows they're wrong. We're gonna win – we're gonna win big and we're gonna win soon."
The Envelope, Please
The evening's big winner was 3M, parent company for brands like Scotch, Post-IT and Command. 3M received the evening's top honor – the Gigaton Best in Class award – as well as the Industrials class award (facing stiff competition from Raytheon, Boeing, Alstom and MTR Corporation).
Said Jeff Muffat, 3M's Manager for Environmental Regulatory Affairs, "We're pleased, proud and honored to be recognized for success in reducing 3M's world carbon emissions by 77% since 1990."
The Gigaton Awards aim for this kind of scaled-up and aggressive corporate action, for which the following companies were recognized:
Consumer Discretionary Award – NIKE for its energy savings program aimed at reducing its global greenhouse gas emissions,
Consumer Staples Award – Reckitt Benckiser Group for demonstrating its leadership in mitigating risk from climate change and sustainable practices,
Energy Award – Suzlon for its achievement in managing its emissions and overall sustainability milestones,
Industrials Class Award – 3M for its leadership in improving energy efficiency and sustainable practices,
Telecommunications Award – Vodafone Group for its new business which provides carbon reducing connections, and
Utilities Award – GDF Suez for its demonstrated leadership by emitting among the lowest CO2 per KWh produced in Europe.
The GDF Suez representative accepting their award noted that large-scale corporate action depends on having "solid rules, regulations and an efficient carbon market that's as broad-based as possible."
The Gigaton Awards ceremony, billed as the climate's academy awards, capped off a day of plenary sessions and workshops hosted by the World Climate Summit – a global 10-year framework to support its 300+ stakeholders' bottom-up solutions to climate change. The Gigaton Awards grew out of the 2009 "Gigaton Throwdown" project that identified seven industries capable of creating 5 million clean energy jobs and reducing CO2 emissions by 5-7 gigatons by 2020.
While the study illustrated for policy makers the barriers to a scaled-up climate solution, the Gigaton Awards and World Climate Summit – in its inaugural year – aim to reward some of the world's largest firms for a low-carbon job well done.      
       
Brothers and Sisters
Former Costa Rican president and Carbon War Room executive board member Jose Maria Figueres guided the audience through the ceremony, his optimistic commentary a complement to comments made earlier in the day by another prominent figure by the same name – Jose's sister and UNFCCC Executive Secretary Christiana Figueres.
At the morning's opening session of the World Climate Summit, Christiana Figueres urged businesses to look beyond their bottom line to affect political change in the nations where they do business. "If you are not impacting the position of the countries in which you operate before they get to Cancun or Durban or Bonn or wherever they're negotiating, frankly, there's not that much that you're transforming."
"You need to have your impact at the level of domestic legislation in the countries in which you operate," she continued. "That's where you can really help to move this process forward."
Jose rounded out her argument during his evening introductions, emphasizing that fighting the war on climate change – "the biggest opponent we've had" – requires from the private sector "drive, entrepreneurship, skills and resources to… make out of this a very profitable business opportunity."
"While governments stall," he says, "it is a time tome for the private sector to assume leadership and move forward. This evening is all about celebrating that leadership."